Lib Dems urged to quit coalition and work with Labour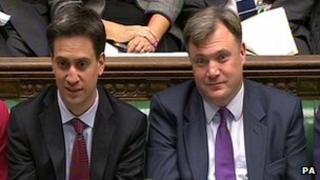 Shadow chancellor Ed Balls has urged senior Lib Dem MPs to break with the government and to form a coalition of their own with Labour.
Mr Balls told the Independent such a move would be in the "national interest" and he would be prepared to serve in a government alongside the likes of Vince Cable and Chris Huhne.
But he suggested Lib Dem leader Nick Clegg could not participate in it.
Both Conservatives and Lib Dems insist their coalition will last until 2015.
Despite recent differences over Europe, the two coalition partners have said they intend to see out their power-sharing agreement to the next election, scheduled to take place in May 2015.
They say they are united in their central task of improving the public finances and returning the economy to long-term health.
In an interview with the Independent newspaper, Mr Balls suggested the public "really wanted" the coalition to work in its early days but now they were "really worried" and asking whether there was an alternative.
Many senior Lib Dems knew the government's economic policy was not working and its consequences were "very dangerous for Britain", he added, and like-minded Lib Dem MPs should now desert the coalition and work with Labour instead.
"I think it would be much better now and for the future of the country if they did," he said. "I don't think they should wait until 2015."
He added: "Before or after the next election, if the parliamentary arithmetic throws up the need for a coalition of Labour and the Lib Dems... I would go into that with enthusiasm... I could serve in a cabinet with Chris Huhne or Vince Cable tomorrow.
"They (Lib Dem MPs) have to decide whether they want to serve in a Lib-Lab coalition which is trying to protect the NHS, keep us a robust defender of the national interest in the EU and get unemployment down or whether they are willing to go along with what they now find themselves bound into."
But Mr Balls said he "didn't think it is possible for Nick Clegg to lead that move".
Under plans for fixed-term elections agreed by Parliament, the current coalition could dissolve without automatically triggering an election if another grouping of parties was able to come together and win a confidence vote in Parliament.
Labour held talks with the Lib Dems after the 2010 general election about trying to form a government.
Mr Balls was among those figures thought to be most sceptical about such a move and the negotiations eventually collapsed with both sides claiming the other had not taken them seriously.
Senior Labour figures also warned such an arrangement would not have the necessary numerical support in Parliament to govern.
Norman Lamb, Nick Clegg's chief political aide, has claimed any chance of dialogue between his party and the opposition is being thwarted by Labour's "tribal" attitude to coalition politics. At the Lib Dem conference in September, he said relations with Labour were in a "bad place".
But Labour leader Ed Miliband has urged sympathetic Lib Dems to work with his party on an issue-by-issue basis.