No Christmas cards for Conservatives, says Vince Cable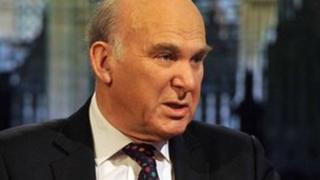 Lib Dem Business Secretary Vince Cable has said he will not be sending any Christmas cards to his Conservative coalition colleagues.
In a webchat with users of Gransnet, Mr Cable said that before May 2010 the thought of joining forces with the Tories was "a nightmare".
But he said "the best way of dealing with nightmares" was to "deal directly with the things we feared".
Mr Cable also revealed his Christmas present for his wife - a Kindle.
The business secretary was asked a wide range of questions by Gransnet users, including on bank regulation, the winter fuel allowance and the eurozone crisis.
'Uncomfortable'
He insisted his ministers "drive hard bargains" as part of the coalition, and he personally was recently "pressed to do things which would have undermined employees' basic rights in the workplace, but didn't go along with them".
Asked whether working with the Conservatives was a "betrayal" of Lib Dem values, he said: "As someone who was, and still is, left of centre and an opponent of Tories for 40 years I sometimes feel uncomfortable with the coalition too.
"But working with other parties in the national interest is only 'betrayal' in a very tribal view."
Asked whether he had ever imagined being in a coalition with the Tories, he replied: "No, except as a nightmare! But the best way of dealing with nightmares isn't to hide under the sheets but to get up and deal directly with the things we feared."
He added: "I'm sending no Christmas cards to Tory MPs, but I look forward to getting back to business working with them in the New Year."
On the day in which a Commons committee criticised the relationship between big business and HM Revenue and Customs, Mr Cable said he was "scandalised" to discover "that leading companies are dodging taxes".
He said the government had introduced tougher controls for banks "who were the worst when it came to industrial-scale tax dodging".
Mr Cable was also asked about a sting last year in which Daily Telegraph reporters posed as members of his constituents.
He said he "felt sick as a parrot" when he released what had happened and comments he had made about newspaper mogul Rupert Murdoch were published.
'Life was easier'
The minister was also asked about the winter fuel payment given to pensioners and whether he had been given it and if so whether he had returned it.
"I haven't given it back. But I do a lot for charities anyway," he said.
"People like me don't need it, but we have to be careful about rushing into more means testing. The system is already complicated enough."
Mr Cable, who also revealed himself to be "a good assistant cook, chopping onions and taking instructions", said he had chosen to take part in the webchat because he was a grandfather himself.
Asked about the difficulties facing young people in the present economic climate, he said: "You're right that life was easier when we were young, but those days of job security, cheap housing and guaranteed private pensions are now over, and nonetheless, hardworking enterprising young people will succeed."