Teenagers 'should challenge use of mosquito devices'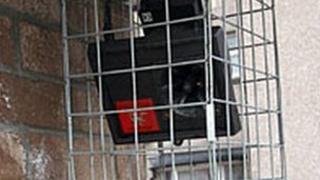 Children's Minister Tim Loughton is encouraging young people to challenge the use of so-called mosquito devices to disperse groups of teenagers.
The devices emit a high-pitched noise which causes discomfort to anyone under 25, and are used in locations such as shopping centres, to prevent loitering.
Mr Loughton said the government was "strongly opposed" to them being used "to unfairly target" young people.
He said the "discriminatory" use of the devices should be challenged.
The Children's Commissioners for both England and Scotland have campaigned against the use of mosquitoes and other similar devices.
Mr Loughton was responding to a written question from Lib Dem MP Jo Swinson.
In his reply, he said: "We are strongly opposed to mosquito devices being used to unfairly target children and young people.
"In my foreword to the 'Positive for Youth' policy statement (published on 19 December 2011), I encourage young people to 'challenge the discriminatory and inappropriate use of mosquito devices'."
The Positive for Youth document is subtitled "A new approach to cross-government policy for young people aged 13 to 19".
In it, Mr Loughton says he rejects "negative stereotypes of teenagers and believe that 99% of our young people are already responsible and hard working".
The document contains a case study involving the member of the UK Youth Parliament for Sheffield, Harrison Carter, in which he campaigned against the use of mosquito devices.
That effort led to a unanimous vote by the cabinet of Sheffield City Council to end their use on all council buildings and to recommended that other bodies like the police do the same.
"We would support all councils taking a similar approach," Mr Loughton said in his written answer.
He also welcomed the Children's Commissioner for England's Buzz Off campaign which he said had "helped bring the issue to the attention of young people and decision-makers".