Two border row officials back at work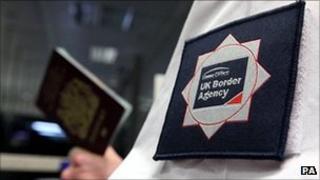 Two UK Border Agency officials suspended during the row over the relaxation of checks have been cleared of blame and are back at work.
Graeme Kyle, director of operations at Heathrow, and Carole Upshall, director of the south and European operations, were suspended last month.
UKBA chief Rob Whiteman said two management reports had cleared them.
Border force chief Brodie Clark who was also suspended later resigned saying his position had been made "untenable".
The row - over whether a relaxation of border checks went further than had been authorised by ministers - is being investigated by Chief Inspector of the UKBA John Vine.
But Mr Whiteman confirmed to the home affairs committee that Mr Kyle and Ms Upshall were no longer suspended, following a management investigation carried out under disciplinary procedures.
"The result of his investigation was a report to me saying they did not have a case to answer, they were cleared of any charges and we have therefore brought them both back to work."
Referring to previous evidence to the committee provided by Mr Clark that he had previously raised concerns about the number of times checks were relaxed at Heathrow, Conservative MP Mark Reckless asked whether that had been taken into consideration.
'No rogue'
Mr Whiteman said the report had found that although he had been "involved in the operations" Mr Kyle had "not deliberately been part of suspending checks against ministerial authority and that those issues rested with Mr Clark".
He said the reports found that both he and Ms Upshall had been "acting within what they believed to be agreed operational frameworks".
Mr Clark has told MPs he was "no rogue officer" and quit saying he planned to sue for constructive dismissal.
He told the committee at a previous hearing that he "did not extend or alter" the pilot scheme "in any way whatsoever" and was "meticulous" in ensuring senior staff were briefed on it.
Home Secretary Theresa May says she authorised the relaxation of some checks on children from the European Economic Area (EEA) and some extra checks on EEA adults under "limited circumstances" at peak times - but claims Mr Clark allowed officials to go further, without ministerial approval.
Mr Whiteman was also asked about the UKBA's "controlled archive" of unresolved asylum seeker and immigration cases - which, in November, contained 124,000 cases - something which has been compared to the size of Cambridge.
He said that figure broke down to 98,000 asylum cases - which had since been reduced to 93,000, largely due to cases having been double counted - and 26,000 other immigration cases. The 26,000 in the "live archive" remain unchanged.
He said "real progress" had been made on the larger archive - and predicted that it would be brought down to 30-40,000 cases by the end of the financial year. He added that he wanted to "close" the archive by March 2013.
Lib Dem Julian Huppert challenged him on the amount of time it was taking UKBA to resolve new cases - arguing it meant a new backlog would soon build up.
Mr Whiteman said it was "good news" that 56% of asylum cases in the last quarter were being "actioned" within 12 months: "We are getting faster at concluding them - a bigger number will be concluded within 12 months this year than the previous year."
Mr Huppert said that appeared to him to be "quite a slow pace" and said fewer than two thirds of new cases were being concluded within six months.