Share of business rates to be kept by English councils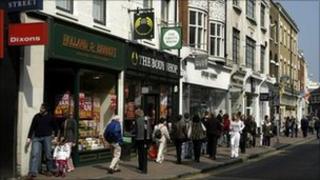 The government has announced details of its plan to allow councils in England to keep a share of the business rates they raise.
At present, councils raise £19bn from business but the money is pooled by Whitehall and then redistributed.
Communities Secretary Eric Pickles said retention would give councils more incentive to promote economic activity.
Labour said reform of the system was necessary, but the government's plans were inadequate and rushed.
Mr Pickles is introducing the changes as part of the Local Government Finance Bill.
The bill will also allow councils to borrow against future business rates income to pay for projects like new roads, and to set their own systems of council tax relief.
Mr Pickles said no council would be worse off because it has a lower business rates income than others.
Tariffs and top-ups
Business rates are charged on most non-domestic premises, including shops, offices, pubs and factories, and are used to pay for services like the police and fire brigade.
Rates are calculated and collected by local authorities and put into a central pool before being redistributed according to a complex formula.
From April 2013, councils will be able to keep a portion of the money they raise - a move the government says will give them more financial freedom.
The system will have a number of key features:
the amount councils receive will be set in year one - and either added to or reduced by central government to prevent some being much better or worse off then others
where councils have a larger business rates base than their current spending, some of that will be taken away as a tariff, and where the base is lower than spending it will be topped up
the initial baseline funding level will then remain in future years, increasing in line with the Retail Price Index
councils will also be able to retain a proportion of any growth in business rate income over the years - but the government will impose a levy to prevent particularly successful areas benefiting "disproportionately"
that levy will be used to provide a safety net for any authorities who see their income drop by a set percentage below their baseline funding level - for example, if a major business in their area closes.
Mr Pickles said councils had until now been "hamstrung and discouraged by a system that failed to encourage and reward economic success".
"If these reforms lead to every council working as hard as it possibly can to help businesses thrive, then they have the potential to benefit individually and increase growth overall," he said.
"It's good news for communities - growth in business rates means more money to invest in local services. And it's good news for local businesses, who can look forward to an even stronger partnership with councils."
Shadow communities secretary Hilary Benn said Labour was in favour of giving councils more power to encourage local business growth, but the Bill would not achieve that.
"The proposals don't sufficiently incentivise councils to get growth going - the Treasury will take an unfair chunk of the business rates councils raise locally," he said.
"There is no guarantee that some councils won't lose out, and the system put in place to help areas with greater need and low growth - like rural communities or areas with high deprivation and unemployment - does not give them confidence that they won't be adversely affected."
Council tax
At present, central government decides who is eligible for council tax relief and how much they can get.
Following the Local Government Finance Bill, the central pot of money will still come from Westminster - and be cut by 10% - but councils will have control of how it is handed out.
Ministers say councils can then decide how best to save that 10%, and will also have a greater incentive to promote economic growth and employment in their areas in order to reduce the number of people who actually need help.
But in a report in October, the Commons local government committee warned the move was likely to reduce the amount of support available for individuals and make life harder for councils.
The government has admitted that only pensioners protected from the changes and some working age people may have to pay more.