Councils warn against 'false' village green claims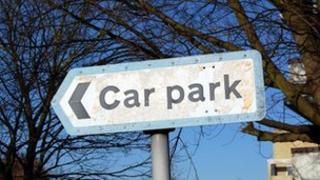 Councils in England and Wales claim they are spending millions of pounds combating "false" attempts to label land as village greens.
Campaigners can argue any piece of land is a village green if it has been used for recreation for 20 years.
The Local Government Association says these have included land with a car park on it, and land with beach huts.
But the Open Spaces Society says most are genuine village greens that need protecting.
The Department for Environment Food and Rural Affairs is currently considering the results of a public consultation on the issue, which ran from July to October.
The LGA says planning rules were being exploited to prevent new affordable housing.
"Ridiculous"
It says what it calls "vexatious claims" are not only hitting taxpayers in the pocket, but are also preventing new affordable housing and stopping job creation.
"Councils are keen to protect genuine village greens and community land in their neighbourhoods," says David Parsons, chairman of the LGA Environment and Housing Board.
"However, the idea that a beach hut or car park constitutes a village green is clearly ridiculous.
"Unfortunately, millions of pounds of taxpayer's money are currently being spent by councils processing 'village green' applications whose primary aim is to prevent development."
The LGA says although many claims are later refused, the process costs councils large sums in legal fees whilst also stopping regeneration in areas which badly need it.
But Kate Ashbrook, general secretary of the Open Spaces Society says all the LGA appears to have done is present a small number of anecdotal cases.
"Scruffy"
"These are not ridiculous cases if people have good evidence that a piece of land has been used as a village green for 20 years," she said.
"It could be that the land on which a beach hut stands is not a village green, but that the land around it is.
"A village green can be a scruffy bit of land at the back of a housing estate with tarmac on it but the loss of it would have a real impact on local people."
But the LGA says the costs of dealing with village green applications are high for taxpayers.
In one case Poole Council has received two "village green" applications in the past year, one of which was rejected with the other still ongoing.
So far the council has spent £75,000 of taxpayer's money on legal and staffing costs, with the potential for a further £30,000 should the remaining application go to Judicial Review.
Councils want the Government to give them more powers to tackle "malicious, vexatious and incomplete proposals at an early stage in the process".
This would allow them to identify frivolous claims quickly with the ability to claim back costs from these applications.
Ministers had been due to publish the results of their consultation this month. A Defra spokesman said that would now be in the New Year.
"We have consulted on a new system that will reduce the burden on local authorities and ensure that only genuine applications to protect green spaces are made," he said.
"The current system has seen local authorities' time and money wasted on applications for council offices and disused railway lines to be classified as village greens. In total, local authorities have spent over £1 million a year in legal fees for village green applications - on top of their own processing costs."