Cabinet debates should be private - Cabinet Secretary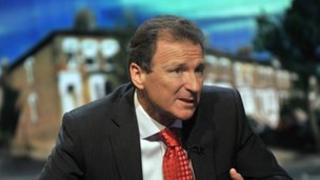 Freedom of information laws should be amended so that minutes of Cabinet meetings are kept private, the out-going cabinet secretary has said.
Sir Gus O'Donnell said ministers need to be able to have "real discussions" without worrying that arguments will be made public.
In an interview with The Times, he said curbing public disclosure would help promote good governance.
Sir Gus is retiring as the head of the civil service at the end of December.
He told the newspaper: "Freedom of Information that allows the public to ask questions about things is fine, but the bit that I'm really against in freedom of information is that bit where it reduces the quality of our governance.
"I want Cabinet to have real discussions, for people to be able to say, 'I disagree with this policy'."
'Nervous'
The cabinet secretary writes the minutes of cabinet meetings.
Sir Gus describes his veto - used to block tribunal findings that minutes should be released - was a "nuclear weapon" but admits to having to use it.
He told The Times : "I want the minutes to accurately to reflect what people have said. I want good governance.
"I want them to have an open space. I want us not to be fudging the issue by saying there was a little discussion."
He said he had not "fudged" any minutes, but was "nervous", adding: "Can I guarantee that this is going to stay private? No, I can't."
He said he wanted more certainty that Cabinet minutes would be protected than offered by the current law, suggesting amendments to the Freedom of Information Act.
"If we could draft it in a way that would really enhance openness and transparency whilst allowing some safe space, that would be good for all of us.
"I think that we would have better government".
Major overhaul
In the interview, Sir Gus also voiced support for more money from the taxpayer for prime ministers' wives.
"The role is a broader, more public role these days," he said.
No 10 permanent secretary Jeremy Heywood will become cabinet secretary when Sir Gus retires on 31 December.
His departure signals a major overhaul at the top of the civil service with his role being carved into three parts.
Mr Heywood will become cabinet secretary and the prime minister's principal policy adviser - but not head of the civil service.
That role will be taken over by a permanent secretary from within Whitehall.
Mr Heywood will also not be the permanent secretary for the Cabinet Office, a role that will be taken on by former Football Association chief executive Ian Watmore, who is already working as the senior civil servant in the Cabinet Office.