Calm economic rhetoric, Nick Clegg tells French PM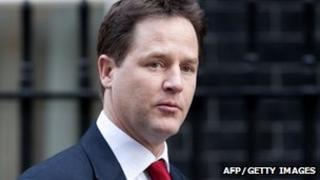 Deputy Prime Minister Nick Clegg has told the French prime minister that steps should be taken to "calm the rhetoric" on the UK economy.
Mr Clegg told Francois Fillon that remarks from members of the French government "were simply unacceptable".
French finance minister Francois Baroin earlier described the UK's economic situation as "very worrying."
Number 10 said Mr Clegg was "absolutely right", and remarks from the French were "not helpful in any way."
Meanwhile, UK officials are to join continuing eurozone talks despite Prime Minister David Cameron's veto of an EU-wide treaty change involving all states.
Mr Baroin's comments came after the chairman of the French central bank, Christian Noyer, suggested on Thursday that Britain was a candidate for a downgrade ahead of France, amid fears in Paris that France might lose its triple-A rating.
The French prime minister, Mr Fillon, raised similar concerns during a visit to Brazil.
"When I look at our British friends, who are even more indebted than us and carrying a bigger deficit, what I see is that the ratings agencies so far don't seem to have noticed," he said on Thursday.
'Rather be French'
On Friday Mr Baroin heightened tensions when he told Europe 1 radio: "The economic situation in Britain today is very worrying, and you'd rather be French than British in economic terms."
A UK government spokesman said Mr Fillon called Mr Clegg from Rio de Janeiro to clarify his comments.
"Fillon made clear it had not been his intention to call into question the UK's rating but to highlight that ratings agencies appeared more focused on economic governance than deficit levels," the spokesman said.
"The deputy prime minister accepted his explanation but made the point that recent remarks from members of the French government about the UK economy were simply unacceptable and that steps should be taken to calm the rhetoric.
"PM Fillon agreed and they both undertook to speak again shortly to discuss economic co-operation."
Mr Fillon's office said he "took the initiative" to call Mr Clegg to "clear up misunderstandings" over his remarks about the British economy.
Downing Street said French prime minister spoke for 10 to 15 minutes in French to Mr Clegg.
It was stressed that the two men have a good working relationship and are in regular contact. The reason Mr Fillon contacted the deputy prime minister is that Mr Clegg is his equivalent in the British government.
The comments from senior French figures followed a recent warning from US credit ratings agency Standard and Poor's that France could lose its triple-A credit rating over the eurozone crisis.
Another agency, Fitch, confirmed France's triple-A rating on Friday evening, but revised its long-term outlook to "negative" from "stable".
BBC Europe correspondent Matthew Price says there has been an astonishing series of attacks coming out of Paris.
He says French officials are smarting from the expected imminent loss of their cherished AAA rating.
'Train crash'
Andrew Tyrie, Conservative MP and chairman of the Treasury Select Committee, said the remarks by senior French figures were "a reflection of the great nervousness around".
"We have been watching the slow-motion train crash about to happen for some time," he told BBC Radio 4's World at One.
"The plain fact is we have all got an interest in seeing an orderly resolution in all this.
"Trying to distract attention to other countries' problems is not going to help anyone."
Liberal Democrat Sharon Bowles, chairwoman of the Economic and Monetary Affairs Committee in the European Parliament, said countries should avoid criticising each other.
"We ought to try and be more positive and swim together rather than sink separately," she said.
Meanwhile Downing Street has said Britain will be "fully engaged" in the talks to decide what should be in a new eurozone fiscal pact, despite deciding to stay out of it.
Labour said the PM, who vetoed the treaty change arguing there were not sufficient safeguards for the UK, was "being forced to backtrack on his damaging decision to flounce out of the room".