YouTube political pops: Daniel Hannan tops the charts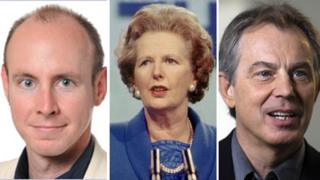 He may not be a household name in British politics but Conservative MEP Daniel Hannan seems to stand head and shoulders above the Westminster village when it comes to users of YouTube.
Mr Hannan became something of a cult figure when he attacked the then prime minister Gordon Brown in a speech in the European Parliament in 2009, describing him as the "devalued head of a devalued government".
That speech, witnessed at the time by only a few hundred MEPs, has been viewed 2.84 million times so far on the video-sharing website.
To put that into context, research for the BBC News website suggests the three-minute address has been watched more often than the five most popular clips of any other UK politician combined.
'Damp rag'
Proceedings in Brussels and Strasbourg are sometimes derided by UK MPs but, for YouTube users, the European Parliament seems to have a real fascination.
According to research conducted by the BBC - adding up the five most watched appearances by each of a series of high profile UK politicians - Mr Hannan and his fellow MEP, UK Independence Party leader Nigel Farage, are the two most viewed UK politicians on YouTube at the moment.
Mr Farage has amassed 2.6 million views for his top five clips posted on YouTube, all of which are outspoken speeches in the European Parliament.
The speech in which he likened the new president of the European Council, Herman van Rompuy, to a "damp rag" and claimed no-one knew who he was - a tirade for which he was later fined and forced to apologise - has been watched nearly 865,000 times.
In other clips all viewed more than 350,000 times, Mr Farage takes Gordon Brown and Nicolas Sarkozy to task and suggests the "game is up" for European integration.
'Going viral'
According to one media expert, the popularity of the Hannan and Farage clips do not suggest YouTube users are necessarily anti-European but that they, and people in general, like "someone powerful being brought down a peg or two".
"It was a good speech, well performed, and a strong attack on Gordon Brown at a time when loads of people were fed up with him," David Gauntlett, Professor of Media and Communications at the University of Westminster, says of the Hannan address.
It was no surprise that the speech had, in industry parlance, "gone viral".
"It's certainly the kind of thing that people see a bit of in the news, and then turn to the internet in the hope of finding the whole thing, because it looks like such a powerful attack and Gordon Brown is sitting right there…It is the kind of thing where you think 'I've got to see this."
Mr Farage is, of course, not the first politician to take issue with European officials and seek to assert British sovereignty.
There are also plenty of golden oldies proving popular in the new media age.
Margaret Thatcher's speech to the House of Commons in 1990 in the aftermath of the Rome summit, in which she said "No, No, No" to Jacques Delors' plans for greater powers for the European Parliament and the European Commission at the expense of member states, has been watched nearly 980,000 times.
In terms of YouTube footage, the former Conservative leader eclipses most of her successors in No 10, including incumbent David Cameron.
Her five most popular clips - including her last appearance at prime minister's questions in 1990, her 1980 party conference speech, an interview about the sinking of the Belgrano and her famous 'lady's not for turning' speech in 1981 - have been watched a total of 2.5 million times.
In contrast, David Cameron can only muster 1.9 million views at this stage although his tally is sure to rise in future. The PM's most watched clip - attacking Gordon Brown at prime minister's questions in 2007 - has been seen nearly 520,000 times.
Despite leaving their Downing Street battles behind, Tony Blair and Gordon Brown are fighting a fierce battle for supremacy on YouTube, with Mr Blair emerging just ahead. Both men have attracted combined viewings of more than 2.5 million for their top five clips.
However, there are question marks over whether Mr Blair's most-watched clip - a spoof interview with the comedian Catherine Tate for the BBC's Comic Relief appeal -deserves inclusion in this survey. It has been watched more than 760,000 times.
More interestingly, a clip of Mr Blair congratulating French President Nicolas Sarkozy on his election has been viewed more than 600,000 times. Why the interest? The prime minister was speaking in French.
The survey throws up some common themes. Prime Minister's questions is a rich source for drama and verbal dynamite, with clashes between John Major and Tony Blair, Gordon Brown and David Cameron and even William Hague and John Prescott getting six figure tallies.
It also seems the public's interest is focused largely on party leaders, reflecting perhaps the concentration of TV coverage on their action.
Senior political figures such as Ken Clarke, Iain Duncan Smith, Theresa May, Charles Kennedy, Ed Balls and Yvette Cooper do not get anywhere near the 100,000 mark in terms of total viewings.
Full story
It is also worth bearing in mind that political clips posted on You Tube do not always tell the full story.
A clip of an interview with Ed Miliband - in which he gives the same answer to six different questions on pension strikes - has amassed more than 370,000 views - six times more popular than any other featuring the Labour leader.
Alongside the setpiece Commons clashes and powerful speeches, there are of course some lighter moments.
It is perhaps no surprise a clip of John Prescott punching a protestor in self-defence during the 2001 election campaign has been watched more than 175,000 times.
But harder to explain is the fact that Albanian TV coverage of Liam Fox's resignation earlier this year attracted an audience of more than 10,000.
And that is as good a time as any to add the disclaimer that this was a rough and unscientific survey of viewing figures for videos featuring UK politicians on one website.
With additional research by Sophie Jamieson