Peer drops fight over same-sex ceremonies in churches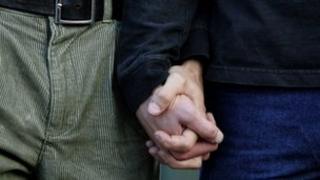 A Conservative peer has abandoned an attempt to overturn the lifting of a ban on same-sex couples holding civil partnership ceremonies in churches.
Baroness O'Cathain had argued the move was "fatally flawed" as churches and other religious premises could be sued for discrimination if they refused.
But she backed down after ministers insisted faith groups were under no obligation, as the law stood, to do so.
Ministers said they would review the law if it was successfully challenged.
Regulations allowing churches and other religious premises to hold civil partnership ceremonies for gay and lesbian couples have already come into force after being approved by Parliament last year.
But the Tory peer used a debate in the House of Lords to try to get the rules annulled and prompt a rethink, arguing that equality laws could leave the Church of England and other religious organisations open to legal challenge.
She expressed concerns that churches could find themselves in the "legal firing line" if they agreed to hold marriage ceremonies but turned down civil partnership requests. She said she was not opposed to civil partnerships in general and had "no hidden agenda".
"My sole reason is to stop churches having their religious freedoms taken away by local authority or litigious activists," she said. "The regulations are fatally flawed and put religious freedom in jeopardy."
'Conscience clause'
But Labour peer Lord Alli, a longstanding equal rights campaigner, said there was "conscience clause" in last year's legislation that made it clear that no religious organisation was obliged to hold civil partnership ceremonies if they did not want to.
He said this "clear statement of intent" made sure any legal challenge would fail but it had been "twisted" to give the impression that people would be "coerced into acting against their conscience".
A number of peers, including crossbencher Lord Dannatt and the Bishop of Blackburn the Right Reverend Nicholas Reade, expressed sympathy with Baroness O'Cathain's argument.
The latter warned the clergy "should not be put at risk of having to defend such claims even if they seem unlikely".
But a succession of Lib Dem, Conservative and Labour members argued that the existing legislation was clear. Tory peer Baroness Noakes urged peers "not to take fright at some highly disputed legal arguments".
For the government, Lord Henley said ministers would revisit the legislation in the event of a successful legal challenge.
"We are confident that faith groups will not be forced to host civil partnership registrations on their premises if they do not wish to do so," he said.
"We are absolutely clear that the voluntary nature of this measure must be maintained."
Civil partnerships were legalised in England and Wales in 2004. The coalition is consulting on changing the law to allow gay marriage by 2015.