MPs deny bid to overrule expenses watchdog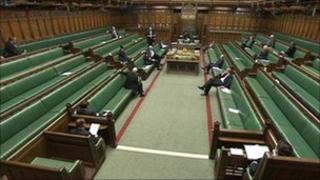 MPs behind proposals to change their expenses have insisted they are not trying to force them on Parliament's independent watchdog.
Committee chairman Adam Afriyie said that was not possible and they were just suggestions for Ipsa to consider.
His report raises the prospect of flat rate allowances to replace travel and accommodation expenses - and having expenses paid out by a Commons body.
MPs backed an amendment calling for proposals to be referred to Ipsa.
'Pretty uncontroversial'
The Members Expenses Committee, which put forward the proposals, has been accused of trying to turn the clock back to a time when the scheme was not transparent and was run in-house.
But its chairman, Conservative Adam Afriyie, told the handful of MPs gathered to debate the report that the ideas were "pretty uncontroversial".
He said the report was not "a legal document, bill or piece of legislation" but rather "a general set of recommendations".
"We are not committing anybody to do anything", he said, adding that the aim was to save taxpayers money and for MPs to be better supported in their jobs.
Mr Afriyie said the report was full of sensible recommendations - for example that office costs, including staff salaries, should not be counted as "expenses" - a practice Labour's David Winnick described as "farcical".
But there was some disagreement about the wording of the report - which minister Mark Harper suggested "trespassed" on Ipsa's independence.
It makes a series of recommendations - including that Ipsa's role as both regulator and administrator of expenses - which, it was suggested, led to costly practices - should be split, with Ipsa remaining as regulator.
It says a separate body should be in charge of actually processing expenses - and in a controversial passage, says "the best arrangement would be for that separate body to be within the House of Commons service" to "avoid imposing undue burdens on MPs", and to use its existing IT and staff.
That was criticised by some of the MPs in the debate - who feared it would be seen as a return to the old, discredited system run by the Commons fees office.
Lib Dem Jo Swinson said she agreed the role should be split - but said: "Absolutely the last place the administration of expenses should come back to - perhaps a separate accounting firm might be about to do it - but please, let's not have that coming back to the House of Commons authorities."
'Word out of place'
Mr Afriyie replied that that was not the report's recommendation - it was simply a reflection of the feeling of the committee that "that would be the best way". "We are not going to recreate the old Fees Office, we know it was absolutely mad," he said.
Labour MP Andrew Smith raised another controversial paragraph - concerning the recommendation that there be a "cost-benefit" study to look at whether flat-rate allowances should replace accommodation and travel expenses.
The report states that MPs should then be able to discuss it and "to make a decision" on whether to go ahead with the allowances.
Mr Afriyie denied that the report recommended that flat rate allowances be introduced but recognised there had been "a little bit of concern" at its wording, as it implied MPs should "decide" what Ipsa should do.
"That is definitely not the intention, if there's a word slightly out of place here, this is not legislation - this is merely a set of recommendations." He said it was merely suggesting that MPs "express their opinion" - probably in the form of an early day motion. "We are not overruling Ipsa, nothing of the sort."
But Mr Smith told him: "That is wrongly worded and inconsistent with what he said and I for one would find it unacceptable because it compromises the independence of Ipsa."
Conservative Edward Leigh, another committee member, added: "This House cannot order Ipsa to do anything, except in an act of Parliament. We can pass any motion we like, that would not force them to do anything."
'Leant on'
One of the committee members, the Conservative Guto Bebb, was criticised for putting down an amendment to the debate calling for the report's recommendations to be referred to Ipsa for consideration - rather than simply asking MPs to approve it.
Mr Bebb said he supported the report but he feared the whole thing would be voted down because of a few contentious paragraphs - but others suggested he had been "leant on" - perhaps by the government - to put down the amendment, something he denied.
Minister Mark Harper said the report made some sensible recommendations - but the government could not support it in full because of "flaws" in some of the suggestions - including one that legislative changes should be made, if Ipsa did not agree to implement changes by next April.
"You can't have an independent regulator, give it your views and advice and then say: 'If it doesn't follow those views, you will legislate to implement those views- - and have an independent expenses system. I don't think those things are compatible."
As Mr Afriyie argued that had not been the committee's intention, Mr Harper told him: "It may be that the committee didn't mean to say this, but it is what the committee has actually said."
For Labour, shadow minister Wayne David said: "The independence of Ipsa must be unequivocally maintained and this House should not have any determining influence over any aspect of its expenses regime."
Mr Afriyie did not push his motion to a vote and instead Mr Bebb's amendment, referring the recommendations to Ipsa to consider as part of its annual review, was passed on the nod.