Annual mental health check call for 'stressed' MPs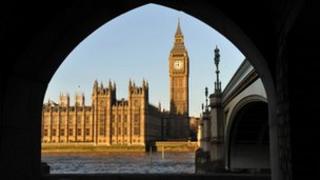 A psychologist is urging MPs to have annual mental health check-ups to make sure their jobs are not proving too stressful.
Dr Ashley Weinberg says heavy workloads and absence from their families may affect politicians' abilities to do their jobs.
He also says David Cameron should have a regular "behind the scenes" test of his mental well-being.
But the doctor who monitors MPs says yearly checks are not necessary.
Dr Ira Madan provides three-yearly medical screening for MPs and has found that about 40% take up the offer.
She says both MPs and ministers have had checks which take place at the House of Commons and there are 50-70 screenings per year.
But Dr Weinberg, a psychologist at Salford University, says such is the importance of the decisions MPs make, they should be getting more regular check-ups.
"MPs have jobs with a high level of responsibility and as such they should have annual check-ups," he says.
'Emotional state'
"We want our MPs to have the best psychological health and it is in everyone's interests that it is maintained.
"They have heavy workloads, not much social support and are frequently away from their families for long periods; it can take quite a toll."
Dr Weinberg, who has edited a new book, The Psychology of Politicians, says the prime minister should not be excluded from the checks.
"Whenever anyone holds high office they should be screened for their psychological and physical health.
"It should be behind the scenes but especially for someone in the job of a political leader it is important that regular checks are done, but not that the public know about it."
He suggests the tests should involve whether MPs have confidence in themselves, their ability to make decisions, their emotional state and whether stress levels are affecting their sleep.
"We need to discover whether MPs are suffering from extreme stress, depression or anxiety. In any working population twenty per cent may well be."
He says there are plenty of examples from history of political leaders making "inappropriate" decisions where knowledge of their mental state might have led to other results.