Government may expand definition of domestic violence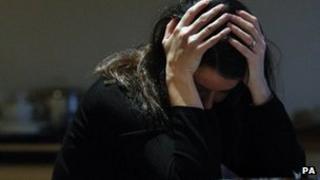 The government is launching a consultation on whether the definition of domestic violence should be widened to include "coercive control".
It says those suffering forced social isolation or psychological domination by a partner often do not recognise they are victims of abuse.
The definition of abuse could also be expanded to apply to those under 18.
But Labour say the government is actually narrowing the meaning in order to make cuts to legal aid.
Domestic violence is currently defined as "any incident of threatening behaviour, violence or abuse (psychological, physical, sexual, financial or emotional) between adults who are, or have been, intimate partners or family members".
In theory, cases in which one partner exerts excessive control over the other - preventing them going out, or visiting friends or relatives, for example - could be pursued under the "psychological" element of the existing definition.
However, in practice such cases rarely are, so the government is considering whether the definition should be widened to expressly include what it calls "coercive control".
The Welsh government uses a much wider definition of domestic abuse which includes "control over access to money, personal items, food, transportation and the telephone".
'Kidnapped'
The government says psychological control is "a unique factor that sets domestic violence apart from other types of crime".
"Without the inclusion of coercive control in the definition of domestic violence, there may be occasions where domestic violence could be regarded as an isolated incident," the consultation states.
Diana Barran, chief executive of Co-ordinated Action Against Domestic Abuse, told the BBC that extreme levels of control, rather than physical violence, were probably the most common precursor to domestic homicide.
"People are completely controlled in all of their daily activities, prevented from taking their medication, prevented from seeing any friends, controlled [in] what they wear, who they talk to, literally on every single level, and sometimes almost kept kidnapped in their home," she said.
The 2009-10 British Crime Survey found that people aged 16 to 19 were more likely to suffer partner abuse than any other age range.
But at present, under-18s are excluded from the legal definition of domestic violence and incidents involving them would generally be treated as child abuse.
The Association of Chief Police Officers says this makes it harder for them to address the growing problem of abuse in teenage relationships.
Chief Constable of Gwent Police Carmel Napier, who speaks for Acpo on domestic abuse, told the BBC: "We know that one in four young girls, and one in five young men are reporting some sort of domestic abuse and violence.
"This impact in relation to the emotional and psychological abuse really impacts on people's self-esteem, and knocks their ability to actually seek help and actually to provide some balance and judgement as they increasingly become isolated from their family and friends and society generally."
Legal aid changes
Labour's shadow home office minister Stella Creasy said it was right for the government to be considering a wider definition, but it was contradicting that by trying to increase the level of proof required before legal aid was agreed.
"Instead of widening the definition of domestic violence, they are narrowing it and making it extremely hard for victims to demonstrate that abuse has taken place before getting the help they need in child custody or divorce cases so they can leave violent relationships," she said.
Under the forthcoming Legal Aid and Sentencing Bill, only domestic violence victims who can prove "a high risk of violence" will qualify for legal aid.
The government says "objective evidence" should be obtained before taxpayers' money is spent.
The consultation will run until 30 March 2012.