'Naive' Werritty admits mistakes over links to Liam Fox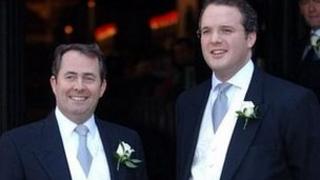 The close friend of Liam Fox whose links to the former defence secretary led to his resignation has admitted to being "naive" and making mistakes.
Adam Werritty told the Spectator he should have more carefully considered how his unofficial role advising Dr Fox and his frequent contact with him would be seen "from the outside".
But he said the accusations against him were "short on details and specifics".
Mr Fox quit government after a report found he breached the ministerial code.
The former Cabinet minister admitted he had allowed his public responsibilities and private loyalties to become "blurred" over his links to Mr Werritty, a former flatmate and best man.
Mr Werritty handed out business cards suggesting he was an adviser to Dr Fox even though he had no official government or party role.
It emerged he had visited his office at the Ministry of Defence 22 times in a year-and-a-half and was present on 18 overseas trips, including two family holidays and trips to Singapore, Dubai, Florida, Bahrain, Israel, Washington, Hong Kong and Sri Lanka.
'Serious mistakes'
In his report, Cabinet Secretary Sir Gus O'Donnell criticised Mr Fox for allowing Mr Werritty to attend certain meetings, including one with a defence contractor, without civil servants being present.
He also found that Mr Fox had facilitated an introduction between his friend and a donor and that donations given to Mr Werritty could be seen to give rise to the perception of a conflict of interest.
However, the report concluded Dr Fox had not benefited financially from his links to his friend and their working ties had not endangered security.
In his first interview since the story broke in October, Mr Werritty said much of what was written and reported at the time was "long on drama and innuendo, but short on details and specifics".
"What had this 'villainous' Adam Werritty actually done?"
But he added: "I know and accept that I made mistakes, some of which were sufficiently serious to have played their part in Liam's resignation as defence secretary. As a close friend of his, I found this particularly hard. I was certainly naive not to have better considered how my role, and regular contact with Liam, would look from the outside."