Are MPs seeking to turn back clock on expenses?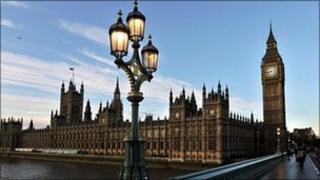 The explosive issue of MPs' expenses - which prompted apologies and repayments, ended careers and saw a handful of MPs jailed after the scandal of 2009 - has returned to the Commons, as MPs debate calls to shake up the system once again.
Some MPs would rather put the issue of their expenses firmly behind them - but others are so annoyed at the new system brought in last year, they are happy to risk bringing it back onto the agenda.
But are MPs really seeking a return to the old system that caused them so much grief two years ago?
The committee in charge of drawing them up says not. It says independent determination and regulation of MPs' expenses is "fundamental and should continue" - but argue that it is not supporting MPs in their work.
'Unsupervised'
However it has been accused of wishing to "go back to an unsupervised system in which they sign their own cheques" by the former independent MP Martin Bell in the Telegraph - and of wanting a "return to the bad old days of duck houses and moat cleaning" by the Taxpayers' Alliance pressure group.
Various proposals have certainly raised alarm bells at the MPs' expenses body Ipsa - not least a suggestion that it should stop processing expenses altogether and just keep its role as a "regulator".
The Members Expenses Committee suggests a Commons body should be in charge of handing out expenses instead "because such a body would avoid imposing undue burdens on MPs and because it would benefit from the economies of scale" on issues like staffing and IT.
But it was a Commons body - the Fees Office - which ran the scheme in operation when the expenses scandal took place - a scheme that was widely discredited. An independent auditor recommended that more than £1m of claims it had approved over five years be repaid.
MPs argue that Ipsa should not be effectively regulating itself - and say that the deficiencies of the old system would not be repeated, due to "transparency" and independent regulation by Ipsa.
But at Ipsa, the argument is that it is MPs they are regulating.
Ipsa says the proposal suggests "a return to the days when MPs and the House authorities administered their costs and expenses and where MPs themselves had a role in deciding upon those costs and expenses".
'Rebutting criticisms'
The latter part of that criticism refers to another potentially controversial proposal from the committee - that MPs should be allowed to decide whether to replace the current scheme, which requires receipts for all claims and sees details published on a bi-monthly basis, with flat-rate allowances for travel and accommodation.
MPs say that current rules requiring them to input individual claims into an online system, then send in receipts and supporting evidence separately, within 90 days, are a bureaucratic nightmare tying up their staff's time, causing them stress and putting them off applying for legitimate costs in the first place.
A survey by the Unite union of Parliamentary staff suggested 59% spent three hours or more a week processing expenses claims.
The bi-monthly publication of all claims also means they are spending their time "rebutting criticisms" about individual claims "taken out of context" and suffering damage to their reputations.
And, they argue, it is a costly system - the National Audit Office has pointed out that 38% of claims are for less money than it costs Ipsa to process, although that was similar to costs in other UK legislatures.
So they have proposed instead an allowances system - where MPs would get a lump sum to spend as they choose on their accommodation and travel - and promised it would be cheaper to the taxpayer because it would cost less to run, and initially could be set at a lower level than current average payments.
But flat-rate allowances have proved controversial in the past. Ipsa quotes its own online survey of 1,684 adults, carried out by YouGov over two days in November, which suggests 70% of people backed a system where MPs claimed for living costs and those claims were made public.
Public confidence
Standards watchdog Christopher Kelly, whose seven-month inquiry into MPs' expenses formed the basis of the current scheme, also ruled them out at the time.
He told the committee he was "not sure that would improve public confidence" if MPs moved from a system where "instead of having to justify what they needed in order to provide them with a decent level of accommodation, they were simply handed a sum of money".
The committee says it recognises that there are "legitimate concerns about MPs making personal gains" and says it is simply seeking more information about how it could work - to inform a public debate on the issue.
But it argues that there is already a flat-rate allowance which has proved uncontroversial - the London Area Living Payment paid to MPs representing London seats who are not allowed to claim for a second home.
It suggests a study is undertaken to look into the costs of extending that to other UK regions and says within six months MPs should get the chance to consider its results and vote on whether allowances should replace travel and expenses provisions.
Ipsa says this threatens its independence - as does another line in the report that there is always the possibility that Parliament could pass a motion "praying Her Majesty to remove from office the Chair and other Board members of IPSA".
It remains to be seen whether MPs will support the report's proposals in Thursday's debate.
BBC Parliamentary correspondent Mark D'Arcy predicts that MPs will be reluctant to vote for the controversial recommendations "out of a well-developed sense of self-preservation", despite hostility to Ipsa.
The Cabinet Office would not be drawn on whether the government supports the report's recommendations but says it is "totally committed to an independent and transparent expenses system and could not accept any recommendations that would be incompatible with that".