Public to decide whether to 'recall MPs' by petition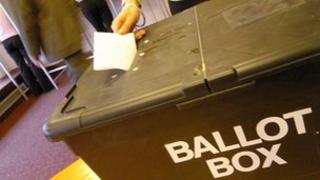 MPs guilty of serious wrongdoing could be forced to stand down and face a by-election if enough constituents want them "recalled" under new proposals.
Under government plans, 10% of an MP's constituents would have to sign a petition for a by-election to happen.
The petition process would be triggered either if an MP was sent to jail for a year or less or the Commons decided that an MP's behaviour warranted it.
But one Conservative MP said the plans would empower MPs not the public.
Calls for tougher sanctions for MPs arose after the 2009 expenses scandal and all three main Westminster parties backed some form of recall proposal in their 2010 election manifestos.
Tuesday's proposals are included in a draft bill which will be subject to pre-legislative scrutiny before being officially introduced to Parliament. The government has also published a White Paper outlining possible alternative sanctions for dealing with disgraced MPs.
'No impunity'
At the moment, MPs convicted of an offence carrying a custodial sentence of more than a year are automatically disqualified from office and have to resign. However this does not apply to anyone given sentences of a year or less who, theoretically, can remain in Parliament.
Former Labour MP Eric Illsley remained as an MP after he was convicted of expenses fraud in 2010 and only resigned two days before being sentenced to a year in jail.
Under the coalition's proposals, constituents would automatically have the right to decide if there should be a by-election in such circumstances. They would have eight weeks to choose whether to sign a petition, and 10% would have to do so to bring about a poll.
In the event of an MP committing a serious offence but not receiving a jail term, it would then be up to the House of Commons to decide, in a vote of all MPs, whether to trigger the petition process.
Ministers suggest that, in these circumstances, the Commons would take clear note of recommendations made by the Commons Standards and Privileges Committee, which considers complaints against MPs and has the power to punish them.
Campaigners have called for safeguards in any petition process to ensure MPs are not forced out unfairly or for political reasons.
The recall proposals are part of a programme of parliamentary and political reform spearheaded by Nick Clegg, which the deputy prime minister has said amounts to a "power revolution".
'Checks and balances'
Cabinet Office Minister Mark Harper said he hoped the proposals would kick-start a debate on how a "transparent, robust and fair" recall process could be put into place.
"This is an important part of the government's programme of measures designed to help restore trust in our political system," he said.
"If an MP has been found to have engaged in serious wrongdoing, they should not be able to retain their seat with impunity until the next general election. Our proposals would allow constituents to decide whether or not an MP should retain their seat."
But Conservative MP Zac Goldsmith said the plan did not live up to pledges made by the coalition when it came to power.
"Government promised to bring in powers to recall MPs," he wrote on his Twitter site.
"Today's bill empowers MPs not voters and represents a broken promise."
For Labour, shadow justice minister Sadiq Khan said a recall system could be a "crucial step" in rebuilding public confidence in the political system but also expressed concerns about the approach being suggested.
"The fact MPs have a final say in whether a recall petition is triggered, unless an MP commits a crime punishable with a prison sentence, is certainly not what the Tory or Lib Dem manifestos promised," he said.
"There needs to be clear guidelines and checks and balances to ensure a recall trigger can't be abused by particular interest groups and works to the benefit of all constituents."
At the moment, local constituency parties can decide to deselect MPs but such decisions normally only take effect at the next election.