Emails discussing hacking were sent to James Murdoch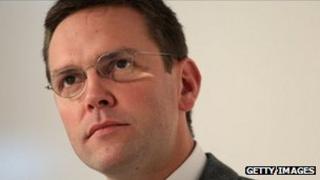 Emails showing James Murdoch was copied into messages where the potential scope of phone hacking at the News of the World was discussed in June 2008 have been released by MPs.
One mentions a "nightmare scenario" arising out of a case brought by PFA footballers' union boss Gordon Taylor.
Mr Murdoch has said he only read the most recent email in the chain, requesting a meeting.
He said he was unaware of wrongdoing at News International papers.
The emails, copies of which have now been given to the Commons culture, media and sport committee, discuss the case being taken by Mr Taylor.
The email trail, attached to a letter from legal firm Linklaters acting on behalf of News International's management and standards committee to the MPs, says Mr Taylor wants to "demonstrate what happened to him was rife throughout the organisation".
In a separate letter to MPs, Mr Murdoch said he was "confident" he had not read the full email chain.
He cited "the timing of my response, just over two minutes after Mr Myler sent his email to me, and the fact that I typically received emails on my Blackberry on weekends".
Making 'NGN suffer'
He added: "Instead, having agreed to meet the following Tuesday, I would have relied on the oral briefing on 10 June 2008 that I have previously described in my testimony before the committee.
"I would also like to take this opportunity to reaffirm my past testimony that I was not aware of evidence that either pointed to widespread wrongdoing or indicated that further investigation was necessary.
"I apologise this has only now come to light and that it is being brought to the committee at this late stage of your enquiry."
Mr Murdoch told the committee in July that it had only been made apparent to him near the end of 2010 that more people had potentially been involved in phone hacking.
In November, he told MPs he had not been made aware of details suggesting phone hacking went beyond Goodman when he authorised a large out-of-court settlement to Mr Taylor in June 2008.
Mr Myler and Mr Crone have said they "did inform" Mr Murdoch about the existence of evidence that phone hacking might be widespread, but Mr Murdoch said he believed "their testimony was misleading".
'As bad as feared'
The email chain released today begins with a report on a meeting with Mr Taylor's lawyer Mark Lewis, which discusses a possible settlement figure and says Mr Taylor "wants to see NGN (News Group Newspapers) suffer".
This was then sent, with further comments, from ex-News International legal chief Tom Crone to the ex-News of the World editor Colin Myler on Saturday 7 June, 2008.
Mr Myler then forwarded the three emails in a chain on to Mr Murdoch, saying it is "unfortunately it is as bad as we feared", and asks for five minutes with him on the following Tuesday.
Mr Murdoch replies two minutes later, saying: "No worries. I am in during the afternoon. If you want to talk before I'll be home tonight after seven and most of the day tomorrow."
BBC business editor Robert Peston says Mr Murdoch's reputation and (probably) his ability to remain as chair of British Sky Broadcasting hinge to a great extent on whether MPs choose to believe his account of reading the emails.
Our correspondent says had he read the email stream, Mr Murdoch would surely have gleaned that the News of the World faced the serious allegation that it had misled MPs about the full extent of phone hacking at the tabloid.
Other developments on Tuesday in brief:
The Leveson Inquiry heard that the News of the World was concerned about containing any publicity over phone hacking.
Media lawyer Lawrence Abramson, then of Harbottle & Lewis, said the fear was expressed when News International asked him to review the extent of the practice in 2007
Former News of the World lawyer Tom Crone told the inquiry he had believed from the outset that News International's line that phone hacking had been the work of one rogue reporter was probably wrong
The Guardian newspaper issued a statement saying "a number of questions persist" about the deletion of voicemail messages on the mobile phone of murdered schoolgirl Milly Dowler in 2002. This comes after the Metropolitan Police told the inquiry on Monday that the messages were "most likely" deleted automatically.
The Dowler family issued a statement saying they clearly recalled police telling them that NoW had listened to Milly's voicemail and deleted some of the messages.
Glenn Mulcaire began suing NoW publishers News Group Newspapers (NGN) at the High Court for a breach of contract. Mulcaire argues NGN had no right to terminate an alleged indemnity in respect of his costs or damages incurred or ordered to be paid by him in connection with the hacking scandal.