More children to receive pupil premium, minister says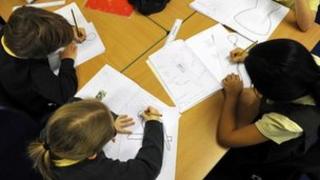 Up to half a million more children from disadvantaged backgrounds are to benefit from the pupil premium, the government is set to announce.
The premium of £488 per child goes to schools on top of their main funding.
At present it only applies to children currently receiving free school meals, but in future anyone who has been registered for free meals in the past six years will be eligible.
The children's minister said it would help schools tackle inequality.
Labour has accused the government of taking away support from low income families by cutting child benefit and freezing tax credits.
'Gulf in achievement'
The pupil premium was a key plank of the Liberal Democrats' last general election manifesto, and was adopted by the Conservatives when they entered coalition.
The government said it was widening availability because research showed that children who had been eligible for free school meals at any point in their school career had consistently lower educational attainment than those who have never been eligible.
It also said secondary school pupils were less likely than those at primary level to be registered for free meals even when they were eligible, and those children would be picked up by the new approach.
Children's Minister Sarah Teather said: "In a fair society, it's the government's responsibility to close the gulf in achievement, where the poorest children are less likely to leave school with five good GCSEs than their less-deprived classmates.
"[The pupil premium] will help schools tackle the inequalities that have been a part of our state system for far too long. Thousands of children will finally be getting the extra support they need to succeed."
Ms Teather will also tell Parliament on Monday how much the pupil premium will rise to in 2012-13 and what the overall pot will be worth.
Total funding for the scheme in 2011-12 is £625m and is due to rise to £2.5bn a year by 2014-15.
Meanwhile, Schools Minister Nick Gibb is set to unveil recommendations for a new "master teacher qualification" to recognise "truly outstanding teachers".
The idea, which follows a review of existing teaching standards by Sally Coates, principal of Burlington Danes Academy in London, includes scrapping the current system for assessing experienced teachers.
Mr Gibb said: "The proposal has the potential to bring much greater simplicity and clarity to what is at present a complex and highly bureaucratic system of standards.
"It is a further step towards our ambition to elevate the status of the teaching profession and ensure the very best are recognised as key figures in the intellectual life of the country."