Reaction to David Cameron's EU-wide treaty change veto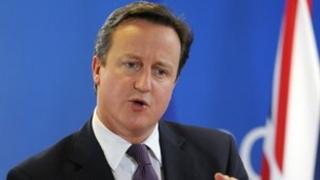 David Cameron has vetoed EU-wide treaty changes to tackle the eurozone crisis, saying they were not in the Britain's interests, "so I didn't sign up to it".
"It was a tough decision but the right one," said the prime minister.
Here's a round-up of some key UK reaction to his decision.
Mayor of London Boris Johnson
"David Cameron has played a blinder and he's done the only thing that it was really open for him to do... I understand the argument in favour of these measures because everybody's desperate to save the euro, but they would just mean a quite unacceptable loss of national sovereignty."
Labour leader Ed Miliband
In a message on Twitter, Mr Miliband said: "Outcome at last night's EU summit was a sign of weakness from David Cameron - why did he fail to build alliances before the summit?"
In a further comment on Twitter, he said: "David Cameron should be building alliances. The UK went into the summit without them and the outcome showed we lacked influence."
Former Liberal Democrat leader Sir Menzies Campbell
Sir Menzies said the outcome had been "inevitable" but cautioned that there were still very important details of the deal to be thrashed out.
"If the attitude of the French was as, for example, exemplified by the statement made by President Sarkozy, then I do not think David Cameron had any alternative.
"It's important to remember that the purpose of this summit has been to resolve the crisis in the eurozone. It is also important to remember that there are people, and indeed countries, outside who regard that as being very significant, President Obama for example."
Foreign Secretary William Hague
Mr Hague said the move was "very sensible" and signing up would have meant a loss of national sovereignty.
"What they've committed themselves to is to giving up more national control over their budgets, and us standing apart from that is not being isolated from them - it is a very sensible thing to stand apart from that."
Shadow foreign secretary Douglas Alexander
"David Cameron's negotiation strategy has let Britain down... the outcome is not a sign of strength but a profound weakness.
"Britain this morning is more isolated than at any point in the 35 years of British membership of Europe.
"It is not in Britain's national interest for decisions to be taken without us even at the table. It's a direct result of David Cameron spending more time negotiating with his own backbenchers than with our European partners."
Deputy Prime Minister Nick Clegg
Mr Clegg said the UK's demands for safeguards were "modest and reasonable" and he regretted that it proved impossible for agreement to be reached.
He added: "As a lifelong pro-European, I will continue to argue within government and with our European partners that where changes now occur, it is essential that the integrity of our open European single market is kept intact and that we work together on the long-term problems of competitiveness within the EU on which millions of people's jobs depend."
Nigel Farage, leader of the UK Independence Party
Mr Farage said it was "quite untenable" for Britain to remain inside the EU.
"We finish this summit with Cameron having gained absolutely nothing, with the prospect of us repatriating powers having disappeared completely and with the City of London, that he sought to protect, now more vulnerable than it has ever been.
"So no, this is not a good situation for Cameron, and he will go home and if he thinks by doing this he has somehow appeased the Eurosceptics - those of us that want a referendum on our membership - far from it. He has fed it."
Martin Callanan, leader of the Conservative Party in the European Parliament
"To have bargained away Britain's rights, freedoms and economic wellbeing would have been unthinkable. If Merkel and Sarkozy hoped he would be craven enough to do it, they know differently now.
"The next thing they need to realise is that in reality Mr Cameron has helped them too. A new treaty may help solve the next crisis, but it would come too late to solve this one."
Chris Bryant, Labour MP, former Europe minister
"Cameron has achieved political and economic isolation for UK whilst keeping us in the Common Agricultural Policy, Working Time Directive and common fisheries.
"Not an ounce, not a gram of leadership to his own party - just surrender. So the euro crisis continues and we tip towards recession.
"The euro is no stronger, so our economy will suffer. The others will unite, so we will be excluded."
Chris Davies, Liberal Democrat MEP
"Far from keeping Britain strong, Cameron has ensured that we will lose our influence at the top table.
"By seeking to protect bankers from regulation, he has betrayed Britain's real interests and done nothing in practice to help the City of London.
"The consequence of the xenophobic attitudes towards our European neighbours that have been allowed to develop has been to leave Britain weak. We have shot ourselves in the foot."
Bernard Jenkin, Conservative MP
"This is a very big change to the European Union. Our relationship with the European Union is already very unsatisfactory.
"This is the moment when we have to start completely renegotiating our relationship. We are going to be a satellite on the edge of what is going to be an economic superpower.
"We need a different relationship. We cannot remain in the treaties as they are currently constructed."
Shadow home office minister Diana Johnson
"Looks like UK taxpayers will pay even more to bail out the eurozone in return for little say in EU decisions that effect our economy."
Andrew Duff, Lib Dem MEP
"Cameron is to be warmly congratulated on reaching his goal of second-class membership of the EU."
Bill Cash, Conservative backbencher
"The fact that we are now vetoing this treaty means that we are set on a path which involves fundamental renegotiation, make no mistake about it. And that in due course will also require a referendum - because it's about the British people, it's about the electors, the people who send us to Parliament - it's our job to protect them and it's also our job to protect their democracy.
"This other arrangement brought forward by Germany and France - it's undemocratic, unaccountable, it's a centralising, integrating process which will not work and is actually a very, very backward step for the future of Europe. And the arrangements they've come up with finally are almost certainly outside the legal basis of the treaty anyway."
Richard Hunter, head of equities at Hargreaves Lansdown stockbrokers
"Investors are scrutinising details from the European summit as they continue to emerge, preferring not to enter into new positions until the fog clears."
Graeme Leach, of the Institute of Directors in Britain
Mr Leach said David Cameron made the right decision. The proposed financial services tax was the "absolutely last thing the UK economy needs at the present time or indeed at any time", he said.
"It has to be global to work. It will never be global and so it will never work," he added.
Terry Smith, of the money brokerage firm Tullett Prebon
The UK is "as isolated as somebody who refused to join the Titanic just before it sailed".