Make 'council bureaucrats' wear bowler hats says MP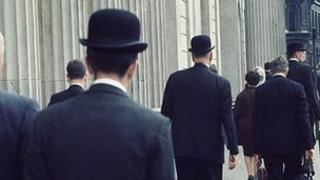 Council officials should be forced to wear bowler hats if proposals allowing them to clamp down on minor offences are approved, a Conservative MP says.
Jacob Rees-Mogg said he disapproved of granting powers to make it a criminal offence for someone not to hand over their name and address if accused of an offence like dropping litter.
Any official enforcing this should have to wear a bowler hat to show they were a "thorough-going bureaucrat", he said.
Bowler hats were created in the 1850s.
Mr Rees-Mogg made the comments during a debate in Parliament on the London Local Authorities Bill.
'Scarper'
This legislation would give council officials greater powers to deal with low-level offenders.
At the moment, they can issue fixed penalty notices for anti-social behaviour such as dropping litter, dog fouling or playing music too loud but culprits are not required to provide their name and address. Some councils in London want to be given the power to do this.
The MP said the idea was an infringement of civil liberties and officials should be made to wear bowler hats so they could easily be identified and avoided.
"First of all, are these accredited people going to have to wear any uniform of any kind?" he asked. "I wonder if they might have a bowler hat or something so that you knew they were from the council, a proper thorough-going bureaucrat.
"The other thing I wanted to know is that if they used that hat to detain somebody they know they wanted, would they potentially be guilty of false arrest."
He was supported in his stance by Conservative colleague Christopher Chope who said the bowler hat was a symbol of officialdom and that anyone confronted by someone wearing one would "be able to scarper in the opposition direction".
First designed in the mid-19th Century, bowler hats became associated with civil servants and City bankers and were adopted as the emblem of Bradford & Bingley building society. But they largely disappeared from the UK's streets from the 1960s onwards.
Among other powers, the London Local Authorities Bill would authorise councils to recover the cost of street cleaning from polluting traders, require fast food sellers to display their hygiene rating and allow councils to crack down on unlicensed car dealers.
The proposed legislation has been approved by the Lords and is now being considered by MPs.