Budget Day will be 21 March, Osborne confirms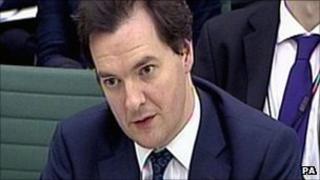 Chancellor George Osborne has announced that the 2012 Budget will be held on Wednesday 21 March.
Mr Osborne gave the date for his annual statement on the state of the national finances and future plans for the economy as he appeared before MPs.
He also said he would respond to Sir John Vickers' report on banking with a statement in Parliament on 19 December.
Last week he confirmed growth forecasts had been revised down and borrowing would increase in his Autumn Statement.
The statement, seen this year as a "mini Budget", also confirmed his plans for a two-year cap on public sector pay rises, to bring forward a rise in the state pension age to 2026 and to extend spending cuts into the two years after the next general election.
'Pure speculation'
He blamed the stuttering economy on a hike in global commodity prices, the eurozone crisis and a new assessment that the UK's economic boom was bigger, and the bust deeper, than had previously been thought.
The Treasury committee pressed him on whether he had informed the press what was going to be in the statement, before it was delivered to Parliament.
Labour's George Mudie read out a list of announcements that had appeared in the newspapers before the statement - including axing a planned rise in fuel duty, capped rail fare increases, details of a credit easing scheme and plans to get pension funds to invest in infrastructure.
"I don't know why you bothered to turn up on the Tuesday," Mr Mudie told him.
Fiscal events
Mr Osborne said some of those stories were down to "pure speculation" - for example on fuel duty - and said many front pages had asserted he was going to freeze all working age benefits: "That was never in any draft plan that I had."
He said he had talked about credit easing on the BBC's Andrew Marr Show: "If that counts as pre-briefing, then, fine, of course, I appeared on that programme, there's no mystery about it, I was on the show talking about it.
"What I try to be careful to do... I try to talk about some of the things that would never get any attention on the day that I thought were important for business to hear, that were not significant, in the classic sense, fiscal events."
"What was not pre-briefed were the very significant fiscal decisions we were taking, about the fiscal mandate, about public sector pay, about the spending totals for later in the Parliament ... but credit easing I had spoken about many times in the Parliament... I was providing further details.
"It's perfectly reasonable, I think and it has been for the last 80-100 years in British politics for politicians to explain policies that have already been discussed and provide more detail in an interview."
The committee's chairman, Conservative chairman Andrew Tyrie told him there was "deep dissatisfaction about this style of government" among some MPs.