New tuition fee system 'may mean fewer scientists'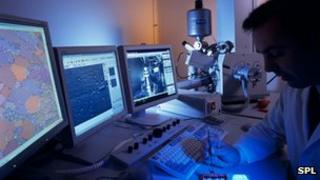 Changes to university funding could reduce the number of people getting qualifications in science, technology and engineering, MPs have been told.
Royal Academy of Engineering chief executive Philip Greenish was speaking to the Commons science committee.
He said that with fees rising to £9,000 a year, universities may create more places on cheaper-to-deliver arts courses to make "a comfortable profit".
Conversely, the number of places for expensive lab-based subjects may fall.
Mr Greenish was giving evidence to the committee about the relationship between the engineering sector and government.
He said that generally engagement had improved, but "the follow-through does not quite match the rhetoric yet" - and gave the example of further education.
"Most people recognise that this county has a requirement to increase the number of higher level engineering and technical skills coming into the economy, but we fear greatly that the higher education reforms are not going to aid that process at all," he said.
"In fact, we fear it might set that process back."
'Incentives to recruit'
From next year, universities are being encouraged to increase the number of places available for applicants with AAB or better in their A-levels, but Mr Greenish said that in order to accommodate them, institutions were cutting places for those with lower grades.
This, he said, was likely to disproportionately impact those applying for the STEM subjects - science, technology, engineering and mathematics - because fewer had the top grades compared with those applying for arts and humanities.
"Then you look at the incentives on universities to recruit students," he continued.
"If they're going to make a comfortable profit on students in lecture-based subjects - arts and humanities - and a loss on students that come in to do laboratory-based STEM subjects, then the incentive on them is not to increase the numbers of students doing STEM subjects.
"At the other end of the scale, the government has also incentivised universities that charge less than £7,500.
"Now there again there's a problem for high-cost subjects like engineering, because it's really quite difficult to see how quality engineering education can be carried out at a higher education institution at lower than £7,500 per student."
He added: "We're talking about risk rather than certainty here because, of course, we haven't been through this yet, but that's one of the concerns we think hasn't been addressed properly yet."
Mr Greenish - and fellow witness Chris Aylett, chief executive of the Motorsport Industry Association - expressed concern at suggestions that design and technology could be removed from the school curriculum to accommodate the new English Baccalaureate.
"Design and technology is a challenging subject area because it's really quite diverse," Mr Greenish said.
"We've had discussions with the Department of Education about how it can be made a more rigorous subject... but there are some real dangers if it is lost from the national curriculum.
"We would maintain that exposure to the right sort of activities at the right ages captures a young person."
Mr Aylett added: "Where's [the next] generation [of engineers] coming from if they never even learn the rudiments at school?"