Parliament 'war powers' must be law by 2015, say MPs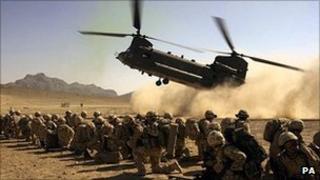 The government must make good on its promise to guarantee MPs a vote on any decision to go to war by 2015, say MPs.
The prime minister has the final say on deploying British troops in conflicts, using Royal Prerogative powers.
MPs voted on the war in Iraq in 2003 and on the 2011 Libya conflict, a day after the first UK air strikes.
Ministers say that "convention" will be formalised but the details need to be worked out. But the MPs say a timetable must be set for such a change.
There have been various moves to guarantee Parliament's right to have a say in war decisions for years.
Final say
In 2006 the Blair government rejected such a call, from a Lords committee, saying it had to have the ability to respond to events quickly.
The then Opposition leader David Cameron said in a speech the same year that trust in politics could only be restored if MPs had the final say on committing troops to war.
When Gordon Brown became PM he said he would surrender or limit powers in 12 areas - including royal prerogatives such as declaring war without parliamentary approval. But no constitutional changes on war powers were made before his government lost power in 2010.
The Commons political and constitutional reform committee has been pushing for answers from the government for months.
An earlier recommendation has been taken up that a reference to MPs' voting on war should be included in the new "cabinet manual" - an attempt by the civil service to draw up a single document spelling out the conventions that underpin how government works.
But Political and Constitutional Reform minister Mark Harper told the committee that the government had already committed to observe the "existing convention" that MPs vote on decisions to commit troops to military action - and as such, there was no rush to formalise it.
'Artificial deadline'
In a letter, he said there were "a number of important questions of detail that need to be addressed when considering the various options in framing the formalisation of this convention" which should be considered properly "rather than being driven by an artificial deadline".
He said a "fixed timetable for progress" would not be appropriate.
But the committee said it was not satisfied - pointing out the issue had been debated for years: "Even on his view that there is no pressing urgency, it does not follow that there should be no timetable for making progress of any kind."
It quoted Foreign Secretary William Hague's words to MPs, during the 21 March debate on Libya, when he told MPs preparing to vote on the action: "We will also enshrine in law for the future the necessity of consulting Parliament on military action."
The committee said: "The government needs to honour the foreign secretary's undertaking to the House... and to do so before the end of the current Parliament. In the absence of any other timetable, this is the one to which we will hold them."
The Royal Prerogatives are a series of historic powers officially held by the Queen that have, in reality, been passed to the prime minister of the day.
They enable decisions to be taken without the backing of, or consultation with, Parliament.
The Conservatives' 2010 manifesto included a pledge to make them "subject to greater democratic control so that Parliament is properly involved in all big national decisions", but despite the Lib Dems being in favour or reform - a pledge on war-making powers was not included in the coalition agreement.