Max Mosley urges privacy action over web search results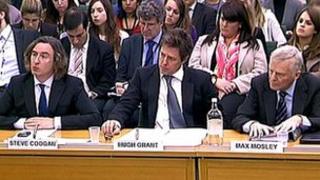 Internet search firms should be forced to remove links to pictures and videos which violate personal privacy, ex-motor racing boss Max Mosley has said.
He is suing Google to try to erase search results about his private life.
There was "no excuse" for images remaining online after a court ruled they should not be published, he said.
Mr Mosley was giving evidence to MPs and peers on issues of privacy and injunctions alongside actors Hugh Grant and Steve Coogan, and MP Zac Goldsmith.
The four men expressed different views on whether a privacy law was needed to protect people from unjustified press intrusion, although all called for an independent body or "arbitrator" to vet certain stories prior to publication to see if they were in the public interest.
'Matter of principle'
Mr Mosley successfully sued the now-defunct News of the World after it ran a story in 2008, accompanied by photos and video footage, claiming he had organised an orgy with Nazi overtones.
He won damages for breach of privacy after a judge ruled there was no justification for the article.
However, Mr Mosley has so far failed in a legal bid to force the media to notify public figures before running articles.
Appearing before the Joint Committee on Privacy and Injunctions, Mr Mosley said that he was now taking legal action to remove pictures and video footage connected to the story from the internet.
Mr Mosley said Google, the world's leading search engine, had agreed to remove links to material from the story on a case-by-case basis.
But he claimed that when he had asked the firm to reprogramme its technology to ensure it did not show up at all in searches about him it had refused as "a matter of principle" even though it was "technically feasible".
"I think you cannot underestimate that if someone puts a picture on the web that they shouldn't, that will go on for ever unless action is taken," he said.
"The way to stop that is the search engines and the search providers. If the search engine does not find it, there is nothing to worry about because if it is on some obscure site, it is just village gossip.
"As soon as a search engine finds it it is available to everybody and the thing you sued over and won over is republished again and again... Clearly that can be stopped and should be stopped in my opinion."
He added: "If you have gone to court and got a decision and you can give them the picture, they have no excuse for repeatedly showing that picture on their search engine."
A Google spokesperson said the company always responds immediately to court decisions.
"Google's search results reflect the information available on billions of web pages on the internet," he said.
"We don't, and can't, control what others post online, but when we're told that a specific page is illegal under a court order, then we move quickly to remove it from our search results."
Labour MP Eric Joyce questioned whether it was "realistic" to retrospectively take material down which might have been seen by millions of people and that forcing firms like Google to do this cast them in the role of "police monitoring the internet".
'Credibility gap'
Actor Hugh Grant said there was a "credibility gap" between what people believed when they read stories online as opposed to in newspapers.
But he added: "If it is the law that it should not be printed in a newspaper, it should surely be the law that it should not be printed in a screen in front of you."
Pressure group Index on Censorship has said search engines are not content publishers and asking them to be responsible for everything on the internet would fundamentally alter it as a "free space".
The committee of MPs and peers is considering how best to "strike a balance between privacy and freedom of expression", as well as looking at the use of injunctions and super-injunctions - to prevent some things being reported - and their enforcement online.
The four witnesses differed on whether Parliament should pass a privacy law to give extra protection and legal redress to victims of press intrusion.
Mr Goldsmith said giving privacy the force of law would give rules "greater democratic legitimacy" while Mr Coogan said the press had been in the "last chance saloon" since the 1960s and "now more than ever there is a case for something concrete happening so it is not just another colossal talking shop".
But Mr Mosley said a privacy law would "be difficult to draft", while Mr Grant said he supported the existing system where the final decision lay with judges, albeit reinforced by a much strong press regulator with statutory powers.
The committee have been asked to review media regulation and to report by the end of February.
The inquiry is separate to the Leveson Inquiry into the culture, practice and ethics of the press, which was prompted by the revelations of phone hacking at the News of the World.