Super-rich pay more UK tax, without Finnish openness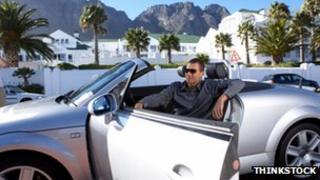 One of the most fundamental principles of the British tax system is privacy.
But attitudes differ in some other countries. I have just been reminded of this, having seen a visualisation of the details of Finland's highest taxpayers.
Compiled by a Finnish data journalist Jens Finnas, it takes their names, gender, age, region and other facts to present his personal graphic exploration of their characteristics (with a political point at the end).
It is based on publicly available tax data, released last month for 2010 and used by the media to compile league tables and generate searchable databases.
Boomed
Of course none of this information would be accessible on British tax payers, however big their individual contribution to the Treasury's receipts.
But under the Freedom of Information Act, the BBC has obtained some information on the collective amount of income tax paid by the UK's biggest taxpayers.
This shows that the number of super-rich individuals paying tax in the UK has increased dramatically, which must reflect how the incomes of those at the top of the scale have been growing. And the amount of income tax obtained from such people has therefore also boomed.
Over a five year period up to 2010 (the latest data available) the number of UK taxpayers with an annual taxable income over £10m more than doubled from 131 to 274.
Prevented
The income tax this growing group had to pay between them increased a little more rapidly, jumping from £0.8bn to £2.1bn. (This was before the 50 per cent top tax rate came into force in 2010/11).
There's no likelihood that the British tradition of individual tax secrecy will change. And perhaps the Scandinavians could actually be moving in this direction.
In Norway the government this year prevented media sites from promoting their own searchable tax databases of the kind created in the past by, for example, the newspaper Aftenposten or the TV2 television network, although figures for individuals can still be used in stories about them.
And Norwegian citizens can still search the database on the official site of the country's tax administration - but I gather they first need to use their national identity number to register.