Parties gear up for pre-Christmas by-election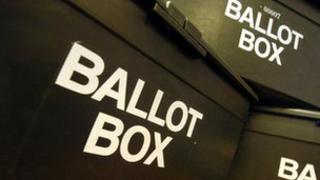 Campaigning has begun in Feltham and Heston in West London for the by-election caused by the death of the local sitting MP.
Labour's Alan Keen died of cancer last month after being the MP since 1992.
The contest takes place on 15 December. There are nine contenders.
It is seen as a marginal seat, having been won by Tories in 1983 and 1987 during Margaret Thatcher's time as PM and the Conservatives need a 4.8% swing to take it from Labour.
If they did so it would be the first time the Conservatives had won a by-election from Labour since July 2009.
The key local issue is the future of Heathrow Airport which borders the seat to the north and west.
The airport employs many who live in the constituency, but others live under its flight path and there have been protests about noise levels.
Labour has chosen Seema Malhotra as their candidate.
She grew up in Feltham, and went to school in Heston. She was an adviser to Harriet Harman during her stint as Leader of the Opposition in 2010.
The Conservative candidate is Mark Bowen who fought the seat at the last two general elections and is leader of the Conservative Group on Hounslow Council.
He achieved a 5.2% swing from Labour at last year's general election and has lived in the constituency for 13 years.
The Liberal Democrats are fielding Roger Crouch, a solicitor specialising in mental capacity law.
At the 2010 General Election Labour got 21,174 votes, The Conservatives, 16,516, the Lib Dems 6,669, the BNP 1,714, UKIP 992 and the Greens 530.
The complete list of candidates is:
* David Bishop (Bus-Pass Elvis Party)
* Mark Bowen (Conservative)
* Andrew Charalambous (UKIP)
* Roger Cooper (English Democrats)
* Roger Crouch (Liberal Democrat)
* David Furness (BNP)
* Daniel Goldsmith (Green)
* George Hallam (London People Before Profit)
* Seema Malhotra (Labour).