'Normal people' begin life as Westminster interns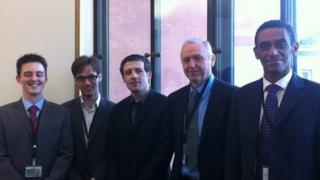 If you're poor, working class or lacking a proverbial leg-up, you'll never get into politics. Or so the theory goes.
But Luke Shaw-Harvey, James Wallace and Matthew Baird disagree - they're among a new batch of hopefuls several weeks in to their new lives as Westminster interns.
Luke, by his own admission, has "no money"; James didn't go to university and trained as a joiner instead; and Matthew admits his parents couldn't afford to fund the usual route to power - the dreaded unpaid internship.
All three are in their early 20s, which isn't particularly unusual for an intern, but they're joined, among others, by a 54-year-old former shop steward and a 53-year-old football coach.
As James puts it: "MPs are supposed to represent their constituents but how can they represent them when they don't really know where they've come from or what it's really like in the world?"
"I think it's important to have normal working class people who've actually been out, had different jobs and not just been to university and gone straight into politics. "
'Out of reach'
Each of the 10 interns is working with an MP. 22-year-old James pulled the longest straw, power-wise, and is now a part of Ed Miliband's team.
Before getting onto the Speaker's Parliamentary Placements scheme, he was a joiner but had been unemployed for nine months.
"I've always been interested in politics but because I didn't go to university I always thought it was out of my reach," he says.
Only a few weeks into working for Esther McVey MP, 23-year-old Luke, from Stoke, has already begun his own project - inspired by his experience of being out of work.
"Being unemployed is depressing, we can't change that, but we can maybe change the way we see the Job Centre," he argues.
"At the moment when you go into the Job Centre, you come back out really demotivated. I'd lost my way and it should have helped me, but I absolutely hated going in there and it shouldn't be like that.
"I think we've got to change the perception of the Job Centre. I want to make it a career hub, not just the place where you get your benefit."
He adds: "It's going to be hard work but I'm so up for it. My MP is PPS to [Employment Minister] Chris Grayling and she says she'll have a meeting about it when I've finished my report."
'Too old'
Flying the flag for the older generation are 54-year-old Alan Kean, from Rochdale, and 53-year-old Derek Sewell, from London.
Alan says: "I was brought up in a mining village in the Midlands. I've done various jobs, usually manual , low clerical, but I've been a shop steward in various jobs and that's where my political interest comes from.
"I'd tried unsuccessfully to get unpaid work in Parliament before, so this seemed an ideal thing to apply for - although I must admit at first I thought, am I a bit too old for it?"
As well as all the factors blocking those from non-traditional backgrounds from entering politics, it's certainly true that some of those with the talent might be put off by what they see.
"I think there's a real problem with the perception of politics and Westminster," Alan says. "You only tend to see the worst part, i.e. prime minister's questions - everybody at each other's throat - or when things go wrong.
"But when you're here you see there's an awful lot of hard work going on - this place needs to project that more to the public."
The Speaker's scheme was set up by Labour MP Hazel Blears. She says she believes most people on it will naturally be of a Labour stripe because "they come form relatively poor backgrounds, they're people who don't have connections".
As she says this, Luke and Matthew pipe up to disagree. Football coach Derek says he's actually working for a Conservative, Amber Rudd, and despite being a Labour man is enjoying the chance to hear an alternative view.
Salary and accommodation
Matthew, who's 22 and from Portadown, has taken the more traditional route, coming straight from a politics degree at Aberdeen University.
"My issue was that my family simply couldn't afford to send me on an unpaid internship. I had loads of friends from London who'd done them, but because I wasn't from London it was always just out of reach.
"This effectively threw me a lifeline."
The interns are being paid a pro-rata salary of £17,500 and those who don't live in London are getting a hand, courtesy of the Social Mobility Foundation and Broxbourne Housing Association, with cheap accommodation.
Matthew admits, with a slightly sheepish grin, his ambition is to be prime minister one day, but at the moment his hands are full with constituency matters - immigration, policing - and writing Parliamentary questions.
Despite the hew and cry about unpaid internships in recent months, David Cameron has said he isn't in favour of requiring all placements to be paid - on the grounds that it would inevitably lead to a reduction in the number of opportunities available.
The PM has also said he's given an internship to a neighbour and feels some solidarity with parents who'll bend over backwards to give their kids an advantage.
Matthew tries to sound a similar note of diplomacy: "I think you need a healthy balance, I think it's important not crucify those people who can get a leg-up. It should be, like, 50/50...
But Luke steps in: "More like 90/10 to us because we're the majority.
"Most of us haven't got the ability to have a leg-up so we should be the majority. I'm not saying you should force it, but this is a start. Why shouldn't it be a start, everything starts from somewhere."