Commons Speaker John Bercow portrait unveiled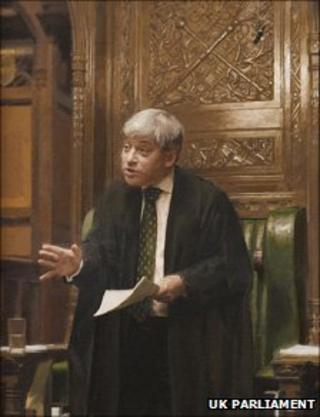 Speaker John Bercow has been captured on canvas for his official portrait - holding court in the Commons chamber.
The painting will hang alongside those of his predecessors Baroness Boothroyd and Lord Martin in Speaker's House.
A £22,000 commission was paid for the portrait, while £15,000 was spent on "framing and heraldic painting", the Commons says.
British artist Brendan Kelly said he wanted to catch the Speaker "mid-action" in the Commons chamber.
The collection of portraits of Commons Speakers began in the early 1800s and are on display in a function room at Speaker's House - the official residence within the Palace of Westminster, where Mr Bercow lives with his wife Sally and three children.
Presence 'captured'
He was elected Speaker after Michael Martin's resignation over the handling of the expenses scandal in 2009.
As Speaker, the chief officer of the Commons, he chairs debates in the chamber and keeps order - regularly telling MPs off for being too rowdy during prime minister's questions.
The painting is accompanied by a coat of arms developed for Mr Bercow, sporting the motto "all are equal". Both can be seen in full on Parliament's flickr page.
The coat of arms, which features on the frame of the painting and was developed by the College of Arms, depicts a ladder - said to represent Mr Bercow's "humble beginnings".
It also includes scimitars, which are taken from the coat of arms of the county of Essex - he was a student at the University of Essex, where he took charge of the Conservative student association. The rainbow colours and pink triangles represent equality and his support for LGBT (lesbian, gay, bisexual and transgender) rights.
Artist Brendan Kelly, a member of the Royal Society of Portrait Painters, was also a war artist, spending time in Afghanistan in 2006. His other portraits include General Sir Mike Jackson - the former head of the British Army - and the current head, General Sir David Richards.
House of Commons Curator Malcolm Hay said the artist had done well in "capturing Speaker Bercow's presence".
But the overall £37,000 cost of the work was criticised by the pressure group the Taxpayers' Alliance, which lobbies for lower taxes.
Its director, Matthew Sinclair, said: "It's very excessive at this time of public sector austerity for the Speaker to spend tens of thousands of pounds on a vanity portrait of himself.
"Following the MPs' expenses scandal, Parliament should be cutting costs, not throwing taxpayers' money away boosting John Bercow's ego."