Iran parliament votes to downgrade relations with UK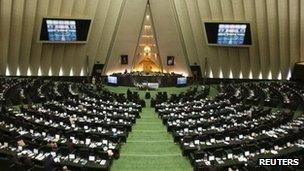 Iran's parliament has voted by a large majority to downgrade diplomatic relations with the UK.
The move comes after the UK Treasury imposed sanctions on Iranian banks on Tuesday, accusing them of facilitating the country's nuclear programme.
Iranian radio reported some MPs chanted "Death to Britain" during the vote, which was approved by 87% of MPs.
The move needs approval by Iran's Guardian Council, which vets all legislation, before it can take effect.
Parliamentary speaker Ali Larijani warned that the chamber was "observing the behaviour of this country [Britain], and it is the beginning of the road," Iranian state media reports.
The vote could lead to the expulsion of the British ambassador in Tehran, Dominick Chilcott, who was only appointed to the post last month.
Britain's Foreign Office said that the vote was "regrettable".
"If the Iranian Government acts on this, we will respond robustly in consultation with our international partners," it said.
Relations between Iran and the UK have been worsening amid rising tension over Iran's nuclear programme.
The sanctions announced by Chancellor George Osborne on Tuesday cut off all UK financial ties with Iranian banks.
Mr Osborne said there was evidence that Iran's banks were funding its nuclear programme.
That decision followed a report from the International Atomic Energy Agency that suggested Iran was working towards acquiring a nuclear weapon.
Iran says its nuclear programme has entirely peaceful ends.