Grant Shapps rejects criticism of housing pledge timing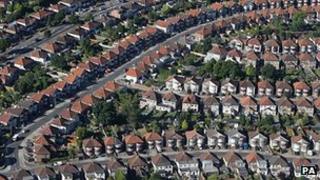 A minister has defended the timing of a big announcement on housing - the day before figures suggested a drop in the number of social homes being built.
On Monday David Cameron announced plans to "get Britain building".
On Tuesday, figures from the Homes and Communities Agency showed a large drop in construction work begun in England on affordable homes over six months.
Grant Shapps told the BBC ministers did not see the figures early and they had to be looked at over a 12-month period.
The interview followed an announcement by Prime Minister David Cameron that people buying new homes in England would be able to borrow up to 95% of their value in an effort to kick-start house building and increase home ownership.
But the following day the HCA released statistics on the supply of affordable homes delivered under various programmes - which showed only 454 housing "starts" in England were affordable homes in the six months from April - a huge drop on the same period the year before.
In an interview on BBC Radio 4's Today programme, Housing Minister Mr Shapps rejected suggestions the government should have delayed its announcement until the affordable housing figures were out.
"I didn't have the [HCA] numbers because ministers are not allowed to see these figures significantly in advance. We should not be moving our programme around because of a set of official statistics. That is what would be wrong. That is what would be an abuse of power. What we have done is absolutely correct."
'No dramatic change'
The government was in the process of replacing Labour's affordable housing programme with its own, he said, and contracts had now been put in place for the new programme which suggested 170,000 affordable homes would be built within this Parliament - more than the 150,000 target.
He accused the BBC of "sensationalising" the figures from the HCA: "On what really matters, how many homes are going to get built, rather than being clever and playing with statistics, the truth is we are going to build a lot more homes than were built, the net increase, under the previous administration."
"You are taking a very, very specific period of six months. If you take the entire period from when this government came to power, house building starts are up by a quarter."
He said the new affordable housing programme would "way outbuild" the previous programme: "If you look at the figures over a year, rather than six months, you will see there isn't a dramatic change one way or the other."
He said the HCA figures did not usually attract media attention - and were "very internal", usually only of interest to the housing press and denied claims that he had pulled out of a Today programme interview on Thursday.
Plans to cut capital investment in social housing were outlined in last year's spending review but the government pledged to deliver 150,000 new affordable homes over four years.
Campbell Robb, chief executive of the housing charity Shelter, told the Today programme on Thursday that the government had taken £1.7bn-a-year out of the old affordable housing scheme and had introduced £400m in the housing strategy - alongside schemes to incentivise councils to build and release public land.
"This is a failure of successive governments, what we need to see is [Chancellor] George Osborne picking up this baton in the growth statements later this month and actually putting some serious money and serious thought into how we can get these numbers moving quickly."