MPs' expenses: Watchdog reviews second home claims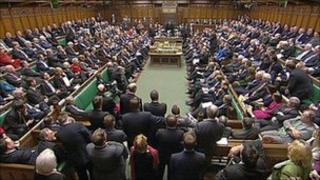 Parliament's expenses body is consulting on proposals to allow MPs to keep claiming mortgage interest on second homes and claim "lump sum" allowances without receipts.
The Independent Parliamentary Standards Authority says it is against both ideas and is simply inviting views.
New MPs cannot claim for mortgage interest but those elected before 2010 can do so until August 2012.
Ipsa is reviewing the scheme set up in the wake of the 2009 expenses scandal.
Many MPs have complained that it is not working properly - and a committee of MPs has been set up to review the legislation that introduced it.
The main focus of the second annual review by Ipsa relates to staffing, but the mortgage interest and allowance suggestions are among the most controversial.
Second homes
Under the old expenses system MPs were able to claim taxpayers' money towards second homes.
It was a key issue during the 2009 scandal when some MPs were accused of renovating properties at taxpayers' expense before selling them on and pocketing large profits.
Scrapping mortgage interest payments and insisting MPs claim to rent properties instead was a key recommendation of a lengthy inquiry into the whole system by the Committee on Standards in Public Life, which said MPs should not expect "to acquire a valuable asset at public expense".
Under Ipsa's rules, MPs who already owned taxpayer-subsidised second homes were allowed to continue claiming towards mortgage interest for a transitional period - until August 2012, although when they sell the property they have to surrender a share of any rise in value of the property since last summer.
But some have argued that claiming for mortgage interest is actually cheaper for the taxpayer than claiming rent.
The consultation document says a previous Ipsa review concluded that the issue was "important for public confidence".
But the body says: "Ipsa's position on this issue has not changed but it is inviting views in this consultation to ascertain whether public opinion has shifted on this issue."
Former Prime Minister Gordon Brown raised the idea of MPs getting a flat-rate allowance at the height of the expenses scandal - in a widely criticised video on the Downing Street website. But it was criticised at the time as a payment for MPs to "turn up and do their jobs".
The issue has resurfaced recently at hearings of the MPs' committee which is reviewing the legislation which set up Ipsa - the Commons members' expenses committee.
'Properly incurred'
At a recent hearing Conservative MP Priti Patel pointed out that the current London weighting allowance was not controversial - while expenses seemed to be "much more expensive and costly to administer".
The consultation says Ipsa still believes expenses and costs should remain "based on the reimbursement of costs incurred" but adds: "There remains a number of MPs who believe that there should be a return to lump sum allowances which would, amongst other things, allow MPs to continue to fund their mortgage interest."
Another issue raised during the consultation is whether rules should be relaxed on strict pay structures for MPs' staff - allowing them to decide how to split pay between staff within an overall budget - and whether those representing poorer areas should be allowed more staff.
Ipsa says that there is a "discernible trend" - supported by both staff members' views and Ipsa's own payroll data - that an MP's workload is linked to constituencies with a lot of social deprivation - which have more time-consuming cases such as those involving immigration, housing and child welfare issues.
Among its proposals are that while most MPs will be allowed 3.5 full-time equivalent staff - those in particularly deprived communities should be allowed four. Ipsa notes that this could mean the overall expenses bill goes up by up to £2.1m - if it was extended to the most deprived 25% of constituencies.
The consultation runs until 20 January.