Theresa May: UK and Pakistan ties 'stronger than ever'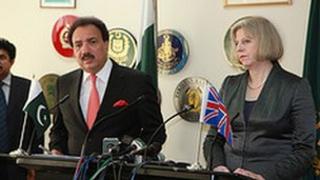 Home Secretary Theresa May says the UK and Pakistan share a "powerful interest" in fighting extremism and terrorism.
She said the ties between the countries "feel stronger than ever" after meeting Pakistan's Interior Minister Rehman Malik during a visit to the country.
The UK was investing in Pakistan's future - not its past, she added.
"Pakistan is on the front line and you have made tremendous sacrifices," Mrs May said.
In April this year on his first visit to Pakistan, UK Prime Minister David Cameron pledged to create a "new era" and to "clear up the misunderstandings of the past".
But he had also provoked anger last year, while on a visit to India, when he accused elements in Pakistan of promoting the "export of terror".
Mrs May stressed what she called the "close ties" between the UK and Pakistan
"We are serious about building a long-term partnership with Pakistan for generations ahead," she said.
"We have consistently pledged our public support, regardless of the political backdrop. There is an unbreakable partnership - we now have to build on it.
"The lives of our citizens are connected through travel and trade, family and culture. There is constant and meaningful contact between our governments, institutions and civil society organisations as well. This is the bedrock of our partnership.
"I want to take this opportunity to reaffirm the UK's commitment to your fight against extremism. Just as our histories are woven together so too will be our future."