Strikes: PM urges firms to let staff bring in children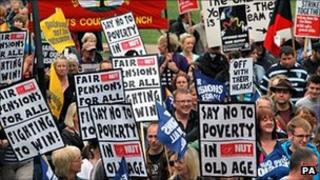 Employers should allow staff to bring children to work where possible, during a large-scale public sector strike next week, David Cameron has said.
He told MPs organisations should allow it "where it is safe" to do so.
The 30 November strike by public sector unions could see thousands of schools closed - as happened during an earlier strike on 30 June.
More than two million workers are expected to join the strike over changes to public sector pensions.
'Ordinary people'
There has been deadlock between the government and unions over pension changes - which has also seen Labour leader Ed Miliband heckled at the TUC conference for not backing the strikes.
Ministers argue that change is needed because people are living longer and say their offer is still more generous than private sector pension deals - but unions say it will mean their members working longer, paying more and getting less.
In a column in the Sun newspaper, Mr Cameron urged public sector workers to "put the people of Britain first and work normally next Wednesday", adding that the victims of strikes would be "ordinary people".
The issue came up repeatedly at prime minister's questions as a series of Conservative MPs condemned the action - one, Louise Mensch, said it would be "mums and dads with children in school" who would face the biggest disruption.
Mrs Mensch, who had to leave the Commons culture, media and sport committee's session with James Murdoch a few weeks ago early to pick her children up from school, said employers should be encouraged to allow parents to bring children to work where possible.
Donations
The prime minister replied: "Where it is safe to help people bring their children to work, then I think organisations should do so."
He said the strikes were likely to close "most of the classrooms in our country" and were the "height of irresponsibility".
Later Mr Cameron's aides said Downing Street itself "would be one of the places where if you want to bring your children, that could be arranged" - but it had not yet been discussed.
Mr Cameron accused Labour leader Ed Miliband of refusing to condemn the strikes - something he linked to Labour's financial backing from trade unions, which he said now were responsible for 86% of all Labour funding.
Figures out on Wednesday show Labour outstripped the Conservatives over the summer in terms of donations.
The Electoral Commission figures for between July and September totalled £3,529,270 for Labour - compared with £2,744,618 for the Conservatives. Of the Labour donations, £3,138,443 came from trade unions.
Conservative MP Richard Ottaway said strikes should be banned unless at least 50% of members voted for them. The prime minister replied: "Just one quarter of Unison members voted to strike, just 23% of those balloted at Unite voted in favour."
Unison and Unite only balloted members who belonged to the affected pensions schemes. Unison had a 30% turnout for its members in local government who voted 75% in favour of a strike and a 25% turnout for its NHS workers, 82% of whom backed strikes.
Unite workers voted 75% in favour of strikes - on a turnout of 31%.
Downing Street aides said the prospect of banning strikes which did not get the backing of at least 50% of a union's members was never "off the table" but added: "We are not at that stage."
Kevin Courtney, of the National Union of Teachers - one of several teaching unions joining next week's strike - said: "Teachers do not take strike action lightly. After months of negotiations, which have led nowhere, the present situation is more a reflection on government than teachers."
Labour has called for further compromise on both sides to avert a strike.