Wife of missing husband campaigns to change the law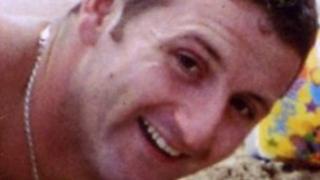 A woman whose husband disappeared after a night out eight years ago has appealed to MPs to reform the law on missing persons.
Vicki Derrick's husband Vinny went missing after a night out in Manchester in August 2003.
She told the Commons Justice Committee she was suddenly a single mum and expected to "get on with it".
Her life since then "has on been hold - however much I try to move forward it is always there", she said.
The committee is holding an inquiry into whether the law in England and Wales covering those who are missing, presumed dead, should be changed to make it easier for families to sort out their affairs.
Vicki Derrick told the MPs everything changed after her husband went missing.
She went overnight from having a joint income with a husband "who earned far more than I earned to being a single mum on a greatly reduced income".
"I have just basically been expected to be able to get on with it. There really is no help out there for people in my situation.
"I am lucky that I have got a very good family to support me. If I didn't have that support I would probably have had my house repossessed because I wouldn't have been able to keep up the mortgage payments.
"You are not only living with the fact that your husband has gone missing, you don't know why. I had a two-and-a-half year old boy at the time, there was a lot of pressure."
She also complained that although Greater Manchester Police had treated Vinny's disappearance as a "high class case" she had received little support from them.
"There isn't enough contact from the police, to this day there isn't."
Death certificate
In Mrs Derrick's case her marriage has been dissolved but her mortgage remains in joint names.
It means that while the High Court recognises Mr Derrick is dead, because there is no death certificate her mortgage provider cannot.
At present in England and Wales there is no time limit on how long financial affairs remain in a person's name where there is no death certificate.
It means that life insurance policies that would pay off mortgages cannot be used.
"For past eight years my life has been on hold however much I try to move forward it's always there," Mrs Derrick said.
Martin Houghton-Brown, of the charity Missing People told the committee that Mrs Derrick's experience was all too typical.
"Seeking out help and support is at best chaotic," he said.
"Legal professionals don't know what they are doing, the courts themselves don't know what they are doing, and because the process is a crazy-paving of legislation it is very, very unclear how families should proceed."
The charity is calling for a single legal process under which a "presumption of death certificate" would have the same power as a death certificate, allowing families to sort out their financial and legal affairs.
Such a system exists in Scotland, Australia and several other European countries.
Mr Houghton-Brown said in Australia, after 90 days a next of kin can apply to have a guardian appointed who will attempt to resolve affairs in the best interests of the missing person.
He added that financial institutions are often sympathetic but do not want to do anything that would breach their duty of confidentiality.
The committee will take evidence from the Justice Minister Jonathan Djanogoly next week.