Call for cheaper car insurance deals for young workers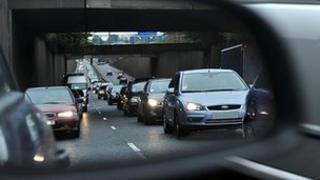 Young people would pay lower insurance premiums if they just use their cars to get to work or college under proposals put forward by Labour.
The "sky-high" cost of car insurance is "pricing young people out of driving", according to the opposition.
They want cheaper "work journeys only" premiums to be offered to "responsible" 17-to-24 year olds to help them take up job offers or to stay in education.
Insurers said it was an interesting idea but questioned its practicality.
The insurance industry says the higher premiums drivers under-25 pay reflect the disproportionate number of accidents they are involved in.
Statistics show that men aged under 25 are five times more likely to be involved in a crash than men aged between 30 and 59.
Labour say the cost of insurance, alongside rising train fares and cuts to bus services, were the main issues young people cited as holding them back during its recent review of transport policy.
Offering cheaper insurance for "specified" journeys to work or college would help young peoples' prospects while meeting insurers' concerns about the link between late night driving and accidents.
"With over one million young people unemployed, we need to remove as many barriers as possible to finding work," shadow transport minister John Woodcock said.
"The sky-high cost of car insurance for young people is making it impossible for those who need to drive to be able to take up a job opportunity or stay on in education and training.
"Instead of simply pricing young people out of driving, insurance firms could help responsible young drivers by offering a choice of cheaper products that provide insurance at specified time to those who need their cars for work, education or training and are prepared to avoid the situations where more accidents occur."
As part of a proposed "new deal" with the industry, Labour say cheaper premiums should go hand in hand with increased road awareness and safety courses for young people and potential changes to the driving test - something ministers are already looking at.
'Too many deaths'
In a report earlier this year, the cross-party Transport Select Committee said young motorists were having to pay "particularly large" premiums.
It cited research by the AA which suggested insurance for men aged 17 to 22 had risen by 46% in the year to October 2010 to more than £2,400.
The Association of British Insurers said it was willing to listen to any proposal which helped "ensure that young drivers can stay on the road", were fully insured and increased safety.
"There are still too many young deaths on the roads," a spokesman said. "Because of these risks, motor insurance costs for young drivers remain high and that is an issue for every young driver and every parent."
But it said there were "practical issues" about how Labour's plan might be implemented, particularly with regard to those drivers who breached the terms of any specific policies.
"If people do use cars for social purposes, then the accident rates go up markedly and if the accident rates go up markedly, claims rates go up markedly and so will the price of insurance," he added.
The ABI has put forward its own proposals to improve road safety which would require all licence holders under 25 to pass a second test after two years to prove their continued road worthiness.
In addition, it is calling for restrictions on overnight driving and the number of passengers that young drivers can carry in their vehicle.