UK 'seeks working time rules deal' over treaty talks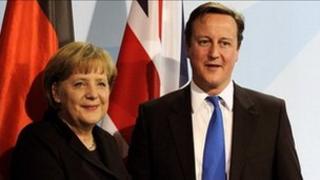 Downing Street says Britain will use talks on the eurozone to try to limit EU curbs on the working week.
There have been reports David Cameron and Germany's Angela Merkel agreed a deal reviewing the working time directive in return for any eurozone-related treaty changes.
No 10 did not comment directly on those reports, but said the government "will look for opportunities" created by talks to further British interests.
The two leaders held talks on Friday.
The president of the European Council, Herman Van Rompuy, is due to report in December on options for improving the economic governance of the eurozone, and one option would be limited treaty change.
Treaty change would require all member countries of the EU to agree, and Britain views this as an opportunity to win changes in other areas, such as protection for the single market and the City of London.
Some reports suggest that a tentative deal was agreed during the prime minister's visit to Berlin, under which Germany would allow an examination of the impact of the directive, which limits the working week to 48 hours across Europe.
In return Mr Cameron reportedly agreed that the UK will sign up to German proposals for a "narrow" amendment to the Lisbon Treaty to put the eurozone's fiscal rules on a legal basis and introduce automatic sanctions for any of the 17 single currency states which breached them.
Britain already has an opt-out from the directive which allows individual workers to say that they do not wish to be limited to a 48-hour week.
But European Court of Justice rulings have had an impact on particular groups, such as doctors, oil rig workers and those whose job involves being "on call" for periods of time.