Government denies threat to free milk for under-5s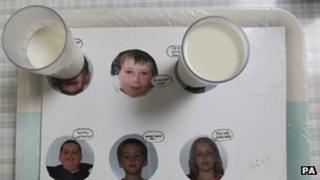 The government has pledged to continue to provide free milk to all under-fives in the UK despite ordering a review of the scheme.
The Department of Health says it wants to tackle overcharging by middle-men of up to twice the retail cost - costing taxpayers an estimated £10m a year.
It claims they are charging up to £1 a pint for milk distributed across England, Wales and Scotland.
The government hopes to have a new system in place by the end of 2012.
The Nursery Milk scheme allows children under five in approved day care to receive 189ml (1/3 pint) of milk each day free of charge.
It dates back to 1940, when milk was issued to pregnant women and young children to protect them against wartime food shortages.
Under the current system schools buy the milk and distribute it, then claim back the money from the government.
'Cast-iron guarantee'
The Department of Health says firms have entered the market to act as agents for the schools and take on the business.
It estimates they now control approximately 40% of the market.
The current cost is £53m a year, but government sources claim around £10m of that is overcharging. The cost is expected to rise to £59m in 2011-12 in England alone.
Sources close to the Health Secretary Andrew Lansley have told the BBC they want to save taxpayers' money by tackling abuse of the system, but they have also offered a "cast-iron guarantee" that no children entitled to free milk will be denied it, now or in the future.
A Department of Health spokesperson added: "We are looking at how the free nursery milk scheme can deliver better value for money, because we are very concerned about the escalating costs.
"One thing is clear, though, the scheme will continue and every child will receive free nursery milk."
The issue of free milk is historically very sensitive.
The Health Minister Anne Milton was slapped down by David Cameron last year for suggesting free milk could be completely stopped after plans were leaked out.
And in 1971, Margaret Thatcher, who was then education secretary, earned the nickname "Thatcher, Thatcher milk snatcher" for ending free school milk for the over-7s.