Cap child tax credit after four children, says MP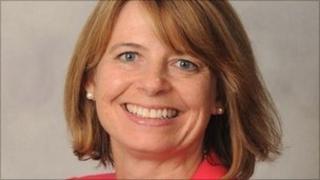 A Conservative MP has suggested that caps should be put on benefits paid for children in workless households.
In an article for ConservativeHome, backbench MP Harriett Baldwin proposed that unemployed families get child tax credits for no more than four children.
She acknowledged it was a controversial idea but said the issue of children growing up in workless households was "extremely serious".
But Lib Dem MP Jenny Willott said the idea could end up penalising children.
The government already plans to put an overall £26,000-a-year cap on the amount of benefits a family can get - equivalent to £500 per week per family - from 2013, with some exemptions.
'Attractive incentive'
That would apply to the combined income from benefits such as jobseeker's allowance, housing benefit, council tax benefit and child tax credit - and is estimated to affect about 50,000 families.
But Mrs Baldwin, MP for West Worcestershire and a member of the Commons work and pensions committee, suggests child tax credit itself - paid to families with children under 16, depending on income - should be linked to the number of children a family has.
In an article for the Tory grassroots website ConservativeHome, she says the incentives to work, when teenage girls leave education, are not strong enough.
And she says that while she has never met "an out-of-work teenager who chooses pregnancy", the availability of benefits linked to the number of children "could be seen as an attractive incentive to a 16-year-old" with low earning potential.
She points to welfare changes in the US under Bill Clinton's presidency which allowed states to impose "family caps" to stop mothers getting more benefits for extra children born while they were on welfare.
Mrs Baldwin says: "If those who are in a workless household were told that they would not receive additional benefits for any new babies until such time as the household has a wage-earner, work incentives would be stronger.
"Perhaps the child tax credit element itself should be capped in a workless household? For example, should non-working parents be able to claim child tax credits for an additional child if they already have four children?"
'Really concerned'
The mother-of-three later told BBC Radio 5 live the best way to avoid children growing up in poverty was to have them when the parents were working.
She said a lot of people, of different income levels, would have to "think long and hard" about having a fifth child.
"Does it really make sense if you already have perhaps four children and you have never been in work... to take on the responsibility of bringing another child into the world, while you are on benefits?"
But Lib Dem MP Jenny Willott, who chairs her party's backbench work and pensions committee and has raised concerns about the planned £26,000 benefits cap, told the BBC Britain had worrying levels of child poverty - and the proposal could make things worse.
"We need to be extremely careful about using children as a tool to change adults behaviour," she said.
"I'm really concerned about taking benefits from children and penalising them."
A spokesman for the Department for Work and Pensions would not comment on Mrs Baldwin's proposal but said the government's existing welfare reforms would "restore integrity and fairness to a system that is failing the very people it was supposed to help".
"We cannot carry on with a situation where people on benefits can receive more in welfare payments than hard-working families and where a life on benefits robs people of achieving their potential."