Eurozone crisis: What happens when David meets Angela?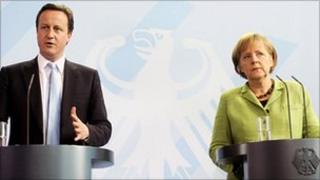 David Cameron knows by now that when he arrives in Berlin today there's little point asking Angela Merkel to change her stance on the European Central Bank - allowing the ECB to become the lender of last resort for the eurozone, thus boosting the market's confidence that someone will stand behind those countries struggling to raise cash to meet their debts.
The prime minister also knows, though, that she was not prepared to back an alternative approach which he advocated - a beefed-up International Monetary Fund lending directly to struggling eurozone countries.
That plan, which the prime minister tried to make fly at the G20 summit in Cannes, got so little traction, I learn, that the so-called "summit Sherpas" - the officials who negotiate treaty texts and who normally stay up all night hammering out a deal - headed to their beds early on the first night of the summit.
The next day the leaders didn't formally discuss the eurozone at all - focusing instead on such immediately pressing matters as climate change.
So, in Berlin today, David Cameron is likely to say to Angela Merkel: You may not like this plan and you might not like that one but Europe can't go on without any plan at all. I have plan A, Angela, what have you got?
PS: Today's Telegraph reports on an alleged "German plot" to derail an EU referendum here.
It is, though, the British government which is arguing against significant treaty change which would ensure that there was no referendum here.
David Cameron's approach is to argue that if there has to be any treaty change at all it should be minor, not involve the transfer of powers from Westminster to Brussels and, therefore, be carried through parliament - like the revised bailout mechanism - without the need to put it to the people.