Ex-MI5 boss urges debate about decriminalising cannabis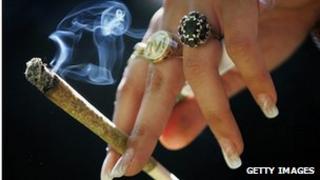 Ex-MI5 chief Baroness Manningham-Buller has called on the government to consider decriminalising cannabis.
The crossbench peer said that only by regulating the sale of cannabis could its psychotic effects be controlled.
In a speech to the all-party parliamentary drugs group, she said the "war on drugs" had been "fruitless" and yet talk of any change was "taboo".
"Given its effects on us all...I find it extraordinary it is not at the forefront of national debate."
She joins a growing list of high profile figures including Dame Judi Dench, Sting, Sir Richard Branson and former senior police officers who have urged the case for legalising some drugs.
Lady Manningham-Buller's speech forms part of a two-day parliamentary conference on drugs policy hearing contributions from narcotics experts from around the world.
'Knee-jerk opposition'
Regulating cannabis would mean that society focused on the health aspects of drug use rather than the criminalisation of drug users, she said.
This would also ensure that it did not include the components most dangerous to mental health.
In her speech, she said it was "extraordinary" that while drugs are harmful to society, destroy lives and increase crime, there was "knee jerk opposition" to any change.
"There is a presumption that the current policy is the best we can do," she said.
Policymakers needed to look at "politically uncomfortable" evidence about current approaches and consider alternatives, including whether the UK "should follow Portugal's fascinating example and focus on drug use as a health issue rather than a crime issue?"
Baroness Meacher, who is the chair of the all-party parliamentary group on drugs policy reform - at which Baroness Manningham-Buller is speaking - is calling on David Cameron to take action.
"We are urging the prime minister to bring forward an all party commission to examine our drug laws which are simply not working," she said.
"We are one of the highest users of drugs and yet we have some of the toughest laws."
'White flag'
But Chip Somers of the drug treatment group Focus 12 says decriminalising cannabis is the wrong way forward.
"I don't want the person driving the train I'm on to have just had a joint thank you very much," he said. "I am reassured by the fact that it is illegal."
Christian Guy, policy director of the Centre for Social Justice, agreed that the "war on drugs" was failing, but said that was no reason to "surrender".
He added: "What I am concerned about is the idea that we should stop fighting it and wave the white flag to these criminal gangs and say that we walk away and give up.
"We need a clear message from law that says this is wrong and sends the right message to young people. But we also need to take other things more seriously.
"This is the wrong call at the wrong time. We need to look at how we prevent drugs use and deal with the demand, not necessarily the supply, and we also need to look at treatment which needs to become much more effective at getting people off drugs and rebuilding their lives, and I think this is a distraction."
Three years ago, the then Labour government reclassified cannabis to Class B from C - against the advice of its own drug advisers who said cannabis played only a "modest" role in the development of psychotic illnesses.