William Hague hails not so secret spies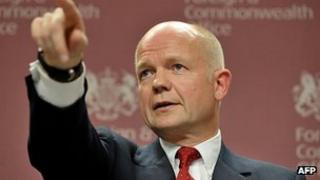 Only two decades ago, the foreign secretary would have been in the strange position of not being able to even confirm that MI6 existed - such was the secrecy surrounding its work.
But on Wednesday, he gave a detailed speech on the work of British intelligence, with the three heads of the relevant agencies - MI5, MI6 and GCHQ - all seated on the front row.
The speech focused on the contribution the agencies make to national security.
Included in it were new details of a plot they foiled last spring by Colonel Gaddafi to carry out car bombings in Benghazi against Libyan rebels and western representatives.
But there was also recognition that the controversies of the last decade have taken their toll. The faulty intelligence on Iraq's weapons of mass destruction knocked public confidence in the core business of MI6, while allegations of complicity in torture have hit the domestic security service MI5 and to a lesser extent MI6.
Changed focus
William Hague's underlying aim in making the speech appears to have been to try to reassure the public that Britain's spies were accountable and that more steps were being taken to strengthen oversight.
In the Cold War, even though they were responsible for the work of GCHQ and MI6, foreign secretaries would actually have relatively little to do with the intelligence agencies.
But now, Mr Hague said he had to review hundreds of authorisations each year for proposed operations and decide whether they should be allowed to go ahead. Like many civil servants, the spies have learned to refer upwards.
This provides them with political cover if anything goes wrong although a few old hands wonder if there is a danger that it will undermine the risk-taking that an intelligence agency needs to foster to do its work.
The range of issues intelligence agencies report on has also changed - intelligence on counter-terrorism and counter-proliferation feed into policy-making in a much more direct manner than the old days of counting Soviet tanks.
The three intelligence chiefs also now sit on the National Security Council, a new innovation which brings them to the heart of Downing Street and decision making.
Accountability
Intelligence work has always involved operating on difficult and complex ethical terrain but in the world of counter-terrorism the dilemmas have become more acute, not least when Britain's closest ally, the US, started to play by new rules immediately after 9/11.
And the modern era has brought questions over accountability.
Parliament's Intelligence and Security Committee has been criticised, with accusations its past reports failed to get to the bottom of issues such as Iraq, the 7/7 attacks and rendition.
Under new leadership, the committee itself has proposed changes and the government appears to be supporting most of those.
But other proposals in the recent Green Paper remain controversial.
Court procedures
The government argues that allowing sensitive intelligence to be revealed only in closed court will mean that allegations of complicity in torture can be dealt with by the courts without having to resort to pay-offs to claimants (to avoid damaging relationships with allies who shared the original intelligence confidentially).
Critics argue though that this goes against principles of open justice and that it was only through the existing system of disclosure that crucial material regarding the treatment of detainees such as Binyam Mohammed came to light.
Those critics are also unhappy with the procedures as proposed for the Gibson Inquiry, which is due to examine the issues, arguing they give too much control to the government.
The points of detail may seem arcane but they matter. Accountability is, in part, built upon public confidence, especially because so much inevitably remains secret when it comes to spies. And if reforms do not provide confidence then the controversies surrounding British intelligence may deepen, undermining their ability to get on with their work.
There will always be some secrets but - whether they like it or not - the days of British intelligence remaining veiled in the shadows are long gone.