Cable dismisses EU-only finance tax as 'tax on Britain'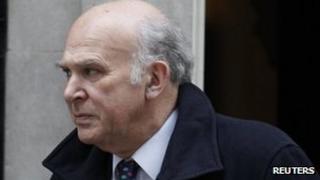 Vince Cable has dismissed talk of a financial transactions tax being introduced just in Europe, saying this would amount to a "tax on Britain".
The business secretary said the UK would not "fall for" any plan which saw the tax levied in just one jurisdiction rather than globally.
He was responding to comments by a top German politician who suggested the UK had to "make concessions" on the issue.
It comes ahead of talks between David Cameron and Chancellor Angela Merkel.
Several EU leaders, headed by French President Nicolas Sarkozy, have argued for a tax on financial transactions - known as the Tobin tax - to be introduced across Europe.
The UK has said it is prepared to consider the move if it is applied equally to all leading global financial centres but will oppose any unilateral move which would damage the City of London.
'Completely irrelevant'
Mr Cable told Channel 4 News he had "no objection in principle" to a globally constituted tax.
But he insisted: "What the European Union countries are proposing, and Angela Merkel, is a tax which is effectively a tax on Britain, the revenue of which would go to support the EU budget.
"We are not going to fall for that. It is completely irrelevant to the really urgent needs to sort out the problem of the eurozone. So, of course, we react to that and are critical of that."
The business secretary was speaking after a party ally of German chancellor Mrs Merkel suggested the UK was being self-interested on the issue and neglecting its wider responsibilities.
"When almost 30% of your GDP comes from the financial market business in the City of London, it is understandable that they are saying we want to impose a tax on this ourselves and not an additional one in Europe," Volker Kauder said.
"But I must say, the British are not members of the currency union but they are members of Europe and they also have a responsibility for the success of Europe.
"Our message to the British (is they) cannot be only looking for their own advantages without being ready to make concessions."
Future of Europe
If the transactions tax could not be implemented across Europe, he said members of the eurozone should press ahead with one across the single currency area.
The trade unions and the Archbishop of Canterbury are among those who have called for a financial transactions tax, popularly known as a "Robin Hood" tax, to help contribute to reducing the deficit.
But business groups have warned it could do untold damage to the City if applied unilaterally with the risk of major banks and finance firms moving abroad.
Chancellor George Osborne has said a tax on financial transactions that did not include America or China "would be economic suicide for Britain and for Europe".
The debate comes ahead of Mr Cameron's visit to Berlin on Friday and amid arguments over the UK's future role in the European Union if members of the eurozone agree to closer fiscal integration in response to the debt crisis currently gripping the euro area.
In a major speech on Tuesday, Mr Cameron suggested the current financial crisis provided an opportunity for the UK to reclaim powers from Brussels in the future.