Ministers 'will not use' special 2012 Olympics lanes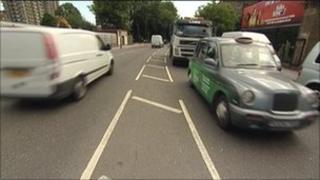 Ministers will not use special lanes reserved for Olympic athletes and officials during the Games, sports minister Baroness Garden has said.
They will not be treated as members of the "Olympic family" able to use the "games lanes" barred to other traffic.
But organisers Locog say ministers on Olympics business - and those with security needs - would have access.
The lanes have proved controversial with fears they will increase traffic congestion across London.
The Olympic lanes are part of the 109-mile Olympic Route Network which will be used by 18,000 athletes and officials during the Games.
Olympics family
The network, covering 1% of the capital's roads, will be free of roadworks to minimise delays.
Exclusive lanes will be in operation in key stretches of road close to the main Olympics site at Stratford as well as parts of central London and other Olympic venues.
They will be restricted to the "Olympics family", comprising athletes, delegates from the International Olympic Committee, other VIPs and the media covering the event.
Anyone else using the lanes face a fine of £200.
There has been widespread anger about the lanes amid fears that other motorists and residents will be hemmed in and the removal of four pedestrian crossings on the route could lead to fatalities.
Asked about the issue in Parliament, Baroness Garden - who speaks for the government on Olympic issues in the Lords - suggested there would be no exception for ministers.
"Will ministers use ORN Games lanes? The answer is no."
'Rest of us'
Public transport was "at the heart" of the Games' transport policy, she added, with organisers aspiring for the event to be "the first "public transport Games".
Former Labour minister Lord Myners said current office-holders should not be able to "take advantage" of the Olympic lanes to get to the event faster than other people.
They should "travel with the rest of us by the same mechanisms that they deem appropriate for the rest of the population", he told peers.
Games organisers Locog said there was not a specific list of who would be allowed to use the lanes but it was likely to be connected to those who had accreditation for the Games and access to the park.
Locog said Prime Minister David Cameron would clearly have access to the lanes for security reasons and this could also apply to ministers within the Culture and Sports department.
But the BBC understands it is unlikely junior ministers will get tickets or have accreditation.
The government confirmed last month it had bought 8,815 tickets for the Olympics, at a cost of nearly £750,000.
It said the allocated tickets were for business and political leaders, and stressed there would be no free tickets for civil servants.