MPs attack system for allocating money to public bodies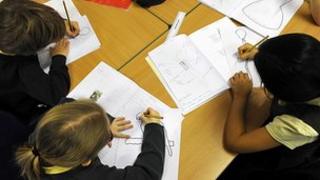 The way in which central government distributes money to hospitals, schools and councils is often unfair, unclear and inconsistent, MPs have claimed.
Under the system of formula-based grants, funding given to schools with similar needs could vary by up to 40%, the Public Accounts Committee said.
The data used to calculate awards was often out of date, its report found.
Ministers are reviewing the grants, with a new system for councils designed to give them more financial autonomy.
The grant system is being used to allocate more than £150bn, 20% of the government's entire spending, to public organisations this year.
But the cross-party Public Accounts Committee, which scrutinises government spending, said the three principal mechanisms for doing so - Primary Care Trust Allocations, Dedicated Schools Grant and Local Government Formula Grant - had serious weaknesses.
Wide variations
The MPs said the current system was complex and often resulted in public bodies getting the wrong amount of money.
One fifth of councils received either 10% too much or too little money, it found.
In the cases of schools, the committee found that funding per pupil was based on historical spending patterns rather than current need and this was leading to unacceptable discrepancies.
"It is essential that this money is distributed fairly, consistently and transparently - but we found that this is not always the case," Labour MP Margaret Hodge, who chairs the committee, said.
"It cannot be right that at a time of budget cuts that this results in Wokingham Council receiving double the funding it actually needs while many other local authorities, such as Dorset County Council, get much less than they require."
While, in some instances, the information used to calculate spending was based on independent, authoritative, published advice, the committee found that this was not the case in other areas.
Some departments were relying on Census data that was a decade out of date, it added, and an alternative source of information may be required should this year's Census be the last.
"All of the approaches to formula funding we considered are under review," Ms Hodge added. "This is the perfect opportunity to address the weaknesses this committee has identified."
On its website, the Department of Education said school allocations for 2011-12 were initially based on 2010-11 figures but from June these were revised to take into account up to date pupil numbers.
'Broken'
The Department of Communities and Local Government has already indicated it plans to overhaul the formula grant used to assess the needs of councils which has been in place since 1988.
Alongside council tax, this is the main way council services in England and Wales are paid for.
As part of a new approach to local government finance, authorities will be allowed to directly keep money raised through business rates and encouraged to develop other forms of revenues.
Local government minister Bob Neil said Whitehall funding had for too long been determined by a bureaucratic formula rather than needs on the ground.
"The local government funding system inherited from the last administration is broken," he said. "It is confusing, arbitrary, complex, fails to support growth and is widely seen as unfair.
"Councils routinely have had to talk up circumstances that downplays their locality to get more money from Whitehall rather than talk up their opportunities for growth and success."
"By letting councils keep the products of enterprise, we will end their demoralising dependence on government handouts, finally start rewarding economic growth and support local firms and new jobs."