Lord Judge urges more UK discretion on human rights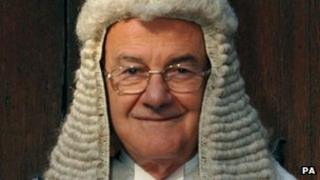 England and Wales' top judge says courts have tended to interpret the judgements of the European Court of Human Rights "too closely".
Lord Judge said a lot of ECHR rulings related only to specific cases and did not set wider legal precedents.
The government has set up a commission to look at the case for introducing a British Bill of Rights amid concerns about certain ECHR judgements.
Lord Judge said it was up to Parliament, not judges, to decide.
The role of the European Court of Human Rights and its judicial reach has become increasingly controversial following a series of judgements - such as on the right of prisoners to vote - opposed by the UK Parliament.
The way in which British judges are interpreting the European Convention on Human Rights - which the court seeks to uphold - has also become contentious with Home Secretary Theresa May and Justice Secretary Ken Clarke clashing over the issue recently.
Setting precedents
Giving evidence to a joint parliamentary committee on human rights, Lord Judge - the Lord Chief Justice of England and Wales - said domestic courts had not been "sufficiently flexible" in the way that they had treated judgements of the ECHR and other supra-national courts.
"Most of the decisions are fact-specific decisions, they are not deciding any point of principle. They are just saying 'here are the facts, here is the answer'. That is not precedent for anything.
"There has been a tendency to follow much more closely than I think we should.
"I think there is a realisation of that and I think judges generally are aware of this and are examining decisions of the European court that much more closely to see whether what you can spell out of it is a principle or just a facts-specific decision."
'Final court'
The Conservatives want to replace the Human Rights Act (HRA) - through which the European Convention is incorporated into UK law - with a British Bill of Rights but Lib Dem leader Nick Clegg has insisted the HRA must remain in force.
Lord Judge said the principles of the European Convention - of which the UK was a founding signatory - reflected English common law and were things "we would all espouse" such as proscribing arbitrary detention and torture, guaranteeing the right to trial and protecting family life.
"We have got to be very careful not to treat the Human Rights Act as encompassing or bringing into operation by the European Convention something which, as a society, we do not all actually believe in.
"We do believe in these things."
He added: "I am afraid in the end you have a court system and, under the act you have given us, the ECHR is the final court that decides what the Convention means. You cannot get around that."
If Parliament was unhappy about European court rulings, he said it was up to legislators to decide whether to amend the Human Rights Act, which he said merely obliges the UK to "take account" of decisions taken in Strasbourg.
Changing the law to state the UK was not bound by European Court decisions would be "very simple", he suggested, although this would put the UK at odds with its treaty obligations.
"You will have to deal with the question of what you want the law to be. You decide that. We don't."
'Intolerable'
Conservative MP Richard Shepherd said the Court had expanded its reach into the "nitty gritty" of domestic law and there seemed to be "no trigger" for UK courts to assert their own supremacy.
"This is now, to many people, intolerable," he said.
Government divisions over human rights legislation came to the surface in September when Mr Clarke criticised Cabinet colleague Mrs May after she said a man who avoided deportation on the grounds that his family life should be protected had cited his ownership of a pet cat.
Lord Phillips of Worth Matravers, the President of the Supreme Court who was also giving evidence, was asked whether UK judges were giving too much consideration to the right to family life in deportation cases compared with public interest factors.
"I don't think we are setting out to do that. It has happened in one or two cases," he said.
"Sometimes you get a case of extreme facts which produces a very understandable result. Then people try on feed on this as setting a principle or a precedent. The answer is they should not."