Chancellor George Osborne set to 'reassess' PFI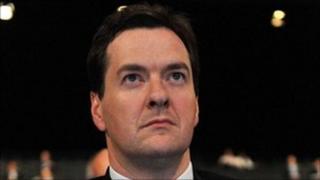 Chancellor George Osborne has announced a "fundamental reassessment" of the use of Private Finance Initiative contracts in a bid to cut costs.
Sir John Major introduced PFI in 1992 to allow private companies to finance, build and run public sector projects.
Mr Osborne said he wants to draw on private sector innovation at a lower cost to the taxpayer.
PFI costs have prompted criticism, with taxpayers facing rising bills over contract terms which can last decades.
The benefits of PFI including getting projects delivered on time and to budget, as well as giving the private sector the right incentives to effectively manage risk.
About 800 PFI contracts are currently in operation. The contracts have a capital value of about £64bn.
Some £267bn in repayments are due to be made to private companies over the next 50 years.
The Treasury said the review will aim to create a new model for using private-sector expertise to deliver public assets and services at a lower cost to the taxpayer.
Despite being introduced by the last Conservative prime minister, PFI was expanded dramatically by Labour as a means of enabling private investors to take on the financing, construction and operation of public-sector infrastructure projects.
A recent Commons Treasury Committee report put the cost of capital for a typical PFI project at 8%, which is double the long-term government gilt rate of around 4%.
The committee said paying off a PFI debt of £1bn could cost taxpayers the same as paying off a direct government debt of £1.7bn.
The coalition government has continued to use PFI but has announced a number of measures aimed at improving cost-effectiveness and transparency, such as abolishing PFI credits in last year's spending review.
Speaking on Monday, the chancellor said: "We have consistently voiced concerns about the misuse of PFI in the past and we have already taken steps to reduce costs and improve transparency.
'New delivery model'
"But the review I have announced today will take this a step further with a fundamental reassessment of PFI."
Mr Osborne said the government wants "a new delivery model which draws on private-sector innovation, but at a lower cost to the taxpayer and with better value for public services".
The Treasury said the review will create a model for private involvement in public-sector projects which is cheaper than PFI.
It also said the new model would access a wider range of financing sources and strike a better balance of risk between the private and public sectors.
A spokesman added that ministers hope to retain the benefits of the PFI model.