MPs urge ministers to scrap a planned rise in fuel duty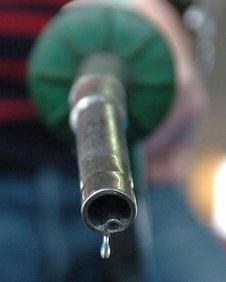 The government should scrap a planned increase in fuel duty to help "hard-working, vulnerable Britons", a Conservative MP has said.
Robert Halfon said the government must show it is one "that cuts taxes for millions of British people and not just for millionaires".
He tabled a Commons motion urging action on fuel prices in response to an e-petition signed by 110,000 people.
It was approved by MPs without a vote but it is not binding on ministers.
Treasury minister Chloe Smith said the government was listening to people's concerns but "now was not the time" to change duty rates as such decisions must wait for the Budget.
The government plans to increase fuel duty by 3p a litre in January - meaning an extra £1.50 to fill an average car - and Chancellor George Osborne is under pressure to scrap that as part of his autumn statement on the economy later this month.
Petrol prices have tripled in the past two decades, but ministers say prices would be even higher had they not scrapped automatic fuel-tax increases imposed by Labour.
Mr Osborne scrapped the annual fuel tax escalator - a mechanism under which duty rose by 1p above inflation every year - and cut fuel duty by 1p in March's Budget.
However, he has only postponed the planned inflation-linked part of the duty rise from April 2011 to January 2012, and from April 2012 to August 2012.
Opening the debate, Mr Halfon said: "Fuel duty is not just about economics, it's an issue of social justice and this is especially true in rural communities which are being destroyed by fuel prices."
He said the government had to be "realistic and truthful about who pays the lion's share of fuel duty".
"It's ordinary families driving to work, it's mums taking their children to school, it's small businesses who can't afford to drive a van or their lorry, it's non-motorists who depend on buses who are also being crushed by rocketing food prices as the cost of road haulage goes through the roof."
In his motion, Mr Halfon urges ministers to consider whether current fuel tax rates are economically competitive; what impact they are having on economic growth and unemployment levels; and to examine the case for a price stabilisation mechanism to even out fluctuations in pump prices.
The Treasury has already said it will introduce a "fair fuel stabiliser" to ensure price rises are capped to inflation when oil prices are high.
Lib Dem party president Tim Farron agreed that people in rural areas were hardest hit because "demand is so inelastic for petrol because people have only one way of getting to work".
Labour have welcomed the chance for a debate on the issue, but said there must be "concrete action" to help business and families rather than "warm words".
The party's leadership had backed an amendment by backbench MP Dave Watts urging the government to reverse January's rise in VAT to 20% - which they say would cut 3p off the price of a litre of petrol.
Russell Brown, MP for Dumfries and Galloway, said: "I have some people in remote areas who have discovered that to get to work has become far too costly and some of these people are considering giving up working all together."
Conservative Caroline Nokes, MP for Romsey and Southampton North, highlighted the struggles of haulage companies.
"Profit margins for hauliers are very tight. This makes it a very vulnerable business and in particular fuel companies are not willing to extend credit terms, leaving payments in some cases to as little as three days.
"Now when haulage firms may not be paid for work for up to 60 days, this proves to be a very hand-to-mouth industry and companies can only afford to think ahead to January."
The AA said the latest fuel price rises were already impacting on drivers, and that for the average motorist the planned increase would equate to an additional £38 a year at the pumps.
AA president Edmund King told BBC Radio 5Live the AA's latest survey showed that some 70% of motorists were already cutting back on journeys - or other expenditure, like food shopping, to pay for petrol.
He said price increases were "socially divisive", saying the nation was being divided into "drives" - people who can afford to drive - and "drive nots".
Motoring journalist Quentin Willson, who speaks for FairFuel UK, a pressure group behind the e-petition, said he and others "want the whole fuel pricing issue to become open and transparent", adding that high fuel duty is "strangling the economy".
"There are desperate, desperate people who cannot afford to use the roads. The effect on society at the moment has been absolutely desperate. Fuel duty is strangling us," he said.
Meanwhile, Richard Hebditch, of Campaign for Better Transport, said the "big problem" is that Britons are reliant on their cars and dependant on foreign oil supplies, which are "quite risky oil supplies".
He said: "What we need to do is take the money from fuel duty and invest it in giving people real alternatives and modernising our transport systems so we aren't so dependant on foreign and risking oil supplies."
Tuesday's debate, which lasted three hours, was approved by the Backbench Business Committee.
Related Internet Links
The BBC is not responsible for the content of external sites.