UK border checks were relaxed at 28 ports and airports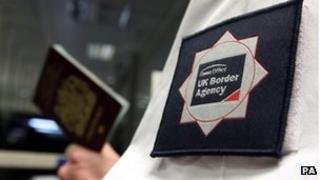 A pilot scheme to reduce passport checks on some citizens of EU countries was used at 28 ports and airports, Home Secretary Theresa May has revealed.
In response to written questions, Mrs May also disclosed that more than 10 million people entered the UK in August when the pilot scheme was operating.
Shadow home secretary Yvette Cooper said there was a "borders fiasco".
Former UK Border Force chief Brodie Clark, who resigned last week, will be questioned by MPs this morning.
His appearance before the home affairs select committee will be followed by that of his then boss, UK Border Agency (UKBA) chief executive Rob Whiteman.
The 28 ports and airports at which the authorised pilot was used included Heathrow, Gatwick, Calais, Coquelles, Glasgow, Harwich, Manchester Airport, Aberdeen and Cardiff.
'Investigation'
The home secretary also said she met Mr Clark once during July and November when the more relaxed border checks were in place. She said the meeting was not to discuss the pilot.
She said she had met him 10 times in the past year in total, while Home Office Permanent Secretary Dame Helen Ghosh had met Mr Clark six times since July 2011, and 15 times in total. These did not include "routine" meetings.
According to the responses to the home affairs committee, Immigration Minister Damian Green received "weekly reports" from the UKBA chief executive on the agency's performance and operational issues. He also had weekly meetings with the chief executive.
Dame Helen said she was currently unable to confirm that no minister or official at the Home Office knew that border checks had been relaxed beyond those authorised.
She said: "This is one of the matters being covered by John Vine's investigation".
'Untenable' position
Mr Clark was suspended after being accused of relaxing immigration controls beyond certain limits that Mrs May had authorised.
The home secretary allowed some checks on European travellers to be relaxed but says Mr Clark went further, scaling back checks on non-EU nationals without her approval.
Mr Clark denies acting improperly but later resigned, saying his position had been made "untenable".
He says he is planning to sue for constructive dismissal.
Mr Clark feels "angry" and "bruised" by the treatment he received from the Home Office in the row, according to Jonathan Baume of civil service trade union the FDA.
In a BBC interview, Mr Baume said: "He certainly never expected any of this. Civil servants are usually relatively anonymous figures.
"They are held personally accountable when things go wrong, but in the end it's the minister who takes the glory when things go very well."
Mrs May has announced there will be three inquiries into what happened, the main one led by the Chief Inspector of the UK Border Agency, John Vine.
MPs on the home affairs committee are also conducting their own inquiry.
The committee's chairman, Labour MP Keith Vaz, said he was "determined to get to the bottom of this serious breach of security".
'Startling'
Meanwhile, Labour said leaked documents showed passengers on private jets were able to enter the UK without being seen by border officials, raising fears among staff that security was being compromised.
One UK Border Agency official complained to managers about not even being "allowed to physically see the passengers", saying it was "at odds with national policy" and "is creating an unnecessary gap in border security", the emails showed.
Government estimates show there are between 80,000 and 90,000 private jet flights every year.
Further leaked emails showed Mrs May's pilot scheme to relax border controls - referred to as level two checks - was used 260 times in the sixth week of the trial, the week ending 16 September.
This compared with 100 times in its first week and 165 in week nine, ending 9 October.
Ms Cooper said: "This is startling new information about the scale of the borders fiasco.
"Ten days on there are even more questions than answers about what on earth was going on at our borders this summer.
"Last week the home secretary told us that no one had been waived through without checks this summer. But these documents show passengers on private flights weren't even seen.
"Last week, the Home Office wouldn't admit to having figures about how often checks were downgraded.
"Now we know those figures exist and that checks were downgraded 260 times in one week alone - potentially for hours each time."
The full list of 28 ports and airports is: Aberdeen; Belfast; Birmingham; Bournemouth; Bristol; Calais; Cardiff; Coquelles; East Midlands; Edinburgh; Exeter; Gatwick; Glasgow; Harwich; Heathrow; Leeds Bradford; Liverpool; London City; Luton; Manchester; Newcastle; Newhaven; Norwich; Plymouth; Poole; Portsmouth; Prestwick and Stansted.