Ed Miliband: Eurozone debt crisis 'a cloak' for Cameron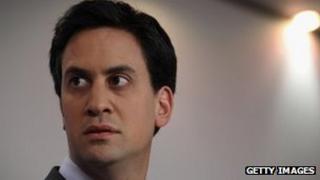 The government is using the eurozone crisis as a smokescreen to hide inaction on the economy, Ed Miliband has said in a speech.
His comments come as markets continue to be volatile as Greece and Italy wrestle with their debt problems.
The Labour leader accused the prime minister of using the crisis as a "cloak" while leaving jobs, homes and businesses "in jeopardy".
A Number 10 spokesman insisted the government was taking positive action.
In recent days both Italy and Greece have made steps towards stabilising their politics and implementing austerity measures.
Greece has signalled it will now accept a bailout package.
But Mr Miliband told a Labour Party conference at Warwick University in Coventry: "It is time David Cameron and George Osborne started taking responsibility for what is happening in the British economy.
"There is an urgent and pressing need for the crisis in the eurozone to be resolved.
"But when people's jobs, homes and businesses are in jeopardy it is not enough for the prime minister and the chancellor to use the eurozone crisis as a cloak to hide their lack of action."
Mr Miliband claimed Japan - which suffered a major earthquake and nuclear disaster this year - was the only major world economy to have seen slower growth than the UK.
He concluded: "Our growth stalled and problems started before the eurozone crisis escalated.
"But David Cameron and George Osborne are still sitting on their hands at home refusing to admit they are wrong."
But the government said it was acting, including creating tens of thousands of apprenticeships.
It says its aim is to leave the UK with the most efficient tax system in the G20, with tax for businesses being cut to encourage growth.
However, Prime Minister David Cameron has said he would not rule out a "double-dip" recession in the UK as a result of events in Europe.
Economy 'the priority'
On Friday he said: "These are very worrying times.
"There's real turbulence in the markets, real question marks over whether countries can deal with their debts and a big question mark over the future of the eurozone.
"But above all my priority has got to be to keep the British economy safe, and make sure we come safely through the storm."
Mr Cameron added: "Our responsibility is to do everything we can to help the economy grow, to help businesses to employ people, to help encourage investment - and that's exactly what we're doing."