Minister Francis Maude urges '15-minute strike'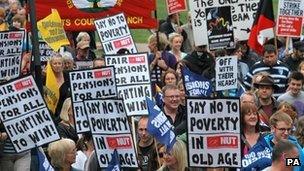 The government has suggested public sector workers planning to strike over pension changes stage a "token" walkout lasting just 15 minutes.
With pension negotiations ongoing, Cabinet Office Minister Francis Maude suggested "token action" on 30 November meant workers could avoid losing pay.
The union Unison called the government proposal a "PR gimmick".
The strike must be held within 28 days of being called, or unions face having to re-ballot members at major expense.
Mr Maude accepted this rule meant some unions felt the strikes must be held on 30 November because if they were delayed the unions would lose their mandate for industrial action.
He told the BBC a "token action" would get their point across without costing them any pay.
Mr Maude said: "I do not know of any public sector employer which would not say, that's a token strike, it's going through the motions, it's preserving the union's position.
"You know, I'm trying to help them out of this ridiculous position they've got themselves into, where they've jumped the gun and gone to ballot before the time was remotely appropriate."
Brian Strutton, national officer of the GMB union, said: "Maude's proposal for a 15-minute strike is a daft idea. We are asking members to vote for a strike not a tea break."
But Mr Maude said a whole day of industrial action, amid ongoing negotiations and after just a quarter of the unions' members had taken part in ballots, would strengthen the case for law changes to demand minimum turnouts for valid strike votes.
"The turnouts have been very low and, you know, I've got to say to the union leaders, if they actually call a strike based on a ballot where only just more than a quarter of those balloted actually bothered to vote at all then the pressure to change the law to set some kind of turnout threshold will really become very, very hard to resist," added Mr Maude.
The negotiations between the government and the unions are technically only relevant for England and Wales, with Scotland and Northern Ireland's administrations in separate but aligned talks with unions, said the BBC's business correspondent Joe Lynam.
TUC general secretary Brendan Barber said: "If Francis Maude had genuinely wanted this idea to be taken seriously I would have expected him to have raised it directly with the unions rather than play it as a PR gambit in a press interview.
"The way to resolve this dispute and avoid industrial action is to make real progress and acceptable offers in the negotiations."
A Unison spokesman said the government could not guarantee that 9,000 public sector employers would not dock workers' pay.
"It's a load of PR gimmicks to make people think unions are being unreasonable," the spokesman said.
"We're talking about a legitimate ballot. Our members voted a certain way and how that strike goes ahead is not a matter for Francis Maude to dictate."
The TUC has called a national day of action over pension changes on 30 November and more than three million workers from a range of unions could take part.
But Sir Steve Bullock of the Local Government Association urged local government employees not to take part in any strike.
He said: "All of the public sector pension schemes are very complex and it is entirely possible that you do something quickly which you can live to regret later.
"I would urge everyone who's involved to take the time to give us more opportunity to work up a sustainable scheme."
Related Internet Links
The BBC is not responsible for the content of external sites.